Tom Stoppard collects Pen Pinter Prize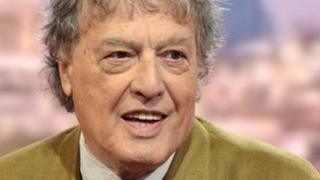 Playwright Sir Tom Stoppard has collected this year's Pen Pinter Prize at the British Library in London.
The 76-year-old gave an address at the event, which also featured readings from his plays.
Sir Tom also announced he had chosen Belarusian journalist Iryna Khalip as the recipient of this year's writer of courage award.
The prize recognises an international writer who has been persecuted for speaking out about their beliefs.
Sir Tom said Khalip was chosen in recognition of her vocal criticism of her native government in spite of intimidation and imprisonment.
The journalist, who is a correspondent for the Russian newspaper Novaya Gazeta, has long written and protested against alleged human rights abuses.
In 2010, Khalip and her husband were arrested after taking part in protests against Belarus's presidential election, which were surrounded by accusations of fraud.
She was given a two-year suspended sentence for "organising and preparing activities severely disruptive of public order" in 2011. The sentence was dropped in July this year.
Sir Tom said he was "proud to share the prize with a brave reporter".
Khalip added: "It's a real honour for me but, more than this, it's a recognition of the just fight of the people of Belarus for human rights and for our dignity."
The Pen Pinter Prize was established in 2009 in memory of playwright Harold Pinter and is awarded to a writer who casts an "unflinching, unswerving" gaze upon the world and shows a "fierce intellectual determination...to define the real truth of our lives and our societies".
Sir Tom is known for co-writing the Oscar-winning screenplay for Shakespeare in Love, as well as his stage works The Real Thing and Rosencrantz and Guildenstern are Dead.
Lady Antonia Fraser, Pinter's widow, said: ''Harold would have greeted Tom's win with enthusiasm as a great admirer of his work; he would have been particularly pleased by the award to Iryna, since the Belarusian cause was close to his heart."