Sarah Hall wins the BBC National Short Story Award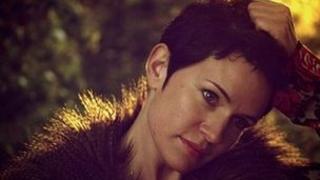 Author Sarah Hall has been named the winner of the BBC National Short Story Award 2013 for her story Mrs Fox.
She picked up the £15,000 prize at a ceremony at BBC Broadcasting House in London, from this year's judges' chairwoman, Mariella Frostrup.
Mrs Fox tells the story of a woman who turns into a fox to her husband's confusion and dismay.
Frostrup said from the outset of deliberations the judges had all been "seduced by our winning story".
"The poetic use of language, the dexterity and originality of the prose made Sarah Hall's Mrs Fox utterly unique," she said.
Hall has won a growing list of awards for her short stories and four novels and has been selected as one of this year's Granta's Best Young British Novelists.
Speaking about Mrs Fox, she said she was "fascinated by situations in which human beings are challenged and placed outside the usual codes of conduct".
She was previously shortlisted for the BBC short story award in 2010.
Runner-up
Lucy Wood was selected as this year's runner-up, receiving £3,000 for her story Notes From the House Spirits, taken from her debut book, a collection of short stories entitled Diving Belles, inspired by Cornish folklore.
The other shortlisted authors, Lionel Shriver, Lisa Blower and Lavinia Greenlaw, each received £500.
The judging panel was made up of Mariella Frostrup, Mohsin Hamid, Peter Hobbs and Deborah Moggach.
The BBC National Short Story Award, which is run in collaboration with the Book Trust, was launched in 2006 and is open to writers resident in the UK.
Last year the award was opened out to international writers to mark Olympic year.
Previous winners include James Lasdun, Julian Gough, Clare Wigfall and David Wilson.