BBC ends partnership with Discovery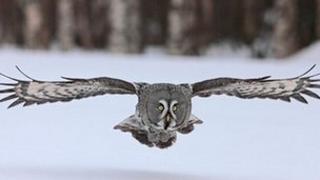 The BBC is to end a lengthy partnership with the Discovery network, which has produced award-winning programmes such as Frozen Planet and Blue Planet.
The corporation said the deal was ending "by mutual agreement" but both parties would still work together.
BBC commercial director Bal Samra said science and natural history remained "a core part of the BBC's DNA".
"We have ambitious plans for the future, with an exciting range of new content in the pipeline."
He added international demand for BBC content had "never been higher".
Discovery's Andrew Jackson commented: "As Discovery's global audiences continue to flourish, they demand the very best science and natural history programming. This is taking us in exciting, new directions, creating these essential shows for numerous cutting-edge platforms.
"We look forward to working with the many talented production companies around the world, including the BBC, with whom we have enjoyed a long and successful relationship."
Meanwhile, the BBC has announced a new deal with BBC Worldwide, to invest in factual content including science, history and natural history programming.
It follows last week's announcement of more than 50 hours of natural history programming, including follow-ups to Blue Planet and the Planet Earth series.
New series Oceans - a follow-up to the 2001 series Blue Planet - will look at some of the marine species that have been discovered over the past decade, including the blanket octopus and the yeti crab.
"Commercial investment through BBC Worldwide and our network of production partners around the world will ensure that we continue to make ambitious, genre-defining series that connect audiences from London to Tokyo with science, history and the wonders of the natural world," said Danny Cohen, the BBC's director of television.