Nelson Mandela film to get royal premiere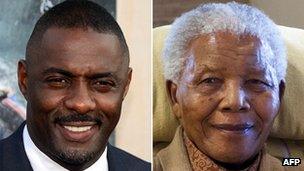 The film based on Nelson Mandela's autobiography, Long Walk to Freedom, has been chosen for this year's Royal Film Performance.
Luther's Idris Elba plays Mandela in the biopic, which premiered at the Toronto Film Festival last month.
The film tells of the former South African President's rural upbringing and the 27 years he spent in prison.
Organisers of the performance said they were "thrilled" to be able to host the royal premiere on 5 December.
Mandela: Long Walk to Freedom is directed by Justin Chadwick and stars British actress Naomie Harris as Mandela's second wife Winnie.
It charts Mandela's early life as a lawyer, his political activism and the 27 years of imprisonment that preceded his democratic election in 1994.
Early scenes in the film show him as a womaniser who was violent to his first wife Evelyn.
Speaking in Toronto in September, Elba said the film shows "both sides" of Mandela's character - "the good and the bad".
The internationally revered anti-apartheid campaigner, now 95, was released from hospital in September after three months of treatment for a recurring lung infection.
Barry Jenkins, the president of the Cinema and Television Benevolent Fund, said: "We are thrilled to be able to host the Royal Premiere of this momentous South African/British co-production."
She said the fund was "most grateful to the Royal Family for their continued support" of the charity.
The Royal Film Performance is the main fundraiser for the Cinema and Television Benevolent Fund (CTBF), the trade charity for the UK film and television industries.
It provides care and financial help for industry employees and their families who suffer from hardship due to bereavement, illness, redundancy or other misfortunes.
The film will be released in UK cinemas on 3 January, 2014.
Related Internet Links
The BBC is not responsible for the content of external sites.