Bruce Springsteen and E Street Band to tour South Africa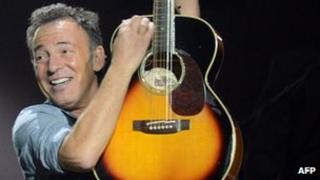 Bruce Springsteen and his E Street Band are to perform in South Africa for the first time, almost three decades after the group campaigned against apartheid.
Two shows are scheduled for Cape Town on 28 and 29 January, with a third in Johannesburg on 1 February.
"Don't miss this once in a lifetime opportunity," said a message on Springsteen's website.
Guitarist Steven Van Zandt founded the protest movement Artists United Against Apartheid in 1985.
As part of the campaign, Van Zandt, Springsteen, Bob Dylan, Miles Davis and various other influential musicians recorded the protest song Sun City.
Its target was the gambling resort in the nominally independent homeland of Bophuthatswana, which attracted less politically minded acts to perform there by paying them large sums of money.
Apartheid ended in 1994 following Nelson Mandela's election as the country's first black president.
'Dream come true'
The three concerts in South Africa are part of Springsteen's Wrecking Ball tour, which began in 2012.
The tour has seen the veteran rocker play a series of gigs in the US, Europe and Latin America over the past 18 months.
"After 24 years it's a dream come true to promote Bruce Springsteen in South Africa," South Africa's Channel 24 entertainment website quoted Attie Van Wyk, chief executive of promoter Big Concerts, as saying.
"It's definitely a personal highlight to confirm The Boss."
Springsteen last toured in 2009 with his Working on a Dream tour.
His band will move on to Australia and New Zealand after their South African dates.