Poirot: David Suchet bids a fond farewell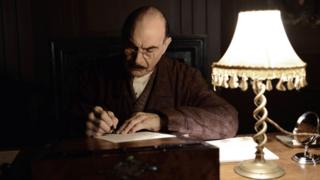 After 25 years playing the Belgian detective, David Suchet is preparing to say goodbye to Hercule Poirot as the iconic character attempts to solve his final case on the small screen.
Curtain: Poirot's Last Case will see the elderly detective call on old friend Captain Hastings (Hugh Fraser) for assistance as they return to the scene of their first case, Styles Court, to try to prevent another murder.
Times have changed irrevocably since Suchet first graced our television screens in the now world-famous role back in 1989. But the actor, 67, believes the public's appetite for the gentle drama is as strong as it ever was.
"Crime drama… has changed completely… it's become very dark and extraordinarily violent," says Suchet.
"That's not the world of Agatha Christie and the fact that he's still so popular must say a lot about the public - that they actually don't need the blood and gore and the sex and the drama."
Grieving
Nevertheless, Suchet will not be reprising his role in any future television versions of Poirot, having filmed every book Christie wrote around the character.
"It's grieving. I'm saying goodbye to a character I've been and have got to know over 25 years… it's goodbye to a best friend as an actor, as someone I've got to know.
"But everything has its time and this is the right time, there are no more Agatha Christie films to make. So that's it."
Interestingly, Suchet credits a "dreadful performance" in an earlier Poirot TV film with helping him establish himself in the title role of the long-running ITV series.
He was first spotted by members of the Agatha Christie estate, including her granddaughter, in 1985's Blott on the Landscape.
"Then they saw me give the dreadful performance I gave in Peter Ustinov's Poirot film Thirteen at Dinner. I played Inspector Japp and it was the worst performance I've ever given," he says candidly.
"It was a good thing I gave such a bad performance because they went on to make a series of films with Peter Ustinov for American television.
"If I'd have been brilliant as Inspector Japp, I would have carried on [in that role] and I would never have been accepted to play Poirot."
Endearingly, Suchet speaks of Poirot like an old friend as he explains why the detective still attracts so many fans.
"He has an enormous charm… he loves people, he has a wonderful ear and he listens well.
"For women, he has no ulterior motive… if a young lady was drunk in the street at two o'clock in the morning and he found her, she would feel perfectly safe, he would be totally honourable. He is asexual," says Suchet.
"My son-in-law described him as the greatest moral compass," he adds fondly.
Not slowing down
The actor says that when he watches early re-runs of Poirot, he realises "it has changed. He's more settled now, more mature in himself.
"I think he's less performed, he's been fleshed out a little bit. We've got more of his loneliness and his darker side, which is what Agatha Christie wrote."
Suchet says that because he "never knew from one year or the next whether I would be playing him again… I never had any options taken out on me, it was just whether the phone would ring or not," it prevented him from the actor's curse - being typecast.
"By me not knowing [if I would play him again], I could take all those wonderful theatre roles like Oleanna [directed by Harold Pinter in 1993], Who's Afraid of Virginia Wolf with Diana Rigg, Amadeus, Arthur Miller's All My Sons opposite Zoe Wanamaker, and Eugene O'Neill's Long Day's Journey Into Night.
"My character acting has been… enhanced by Poirot, because he's given me the profile - people will use me because Poirot has been successful."
On Wednesday, Suchet and his wife "will do what we've done every first night of Poirot on television.
"We won't record it, we'll sit there with one glass of wine and just watch it and toast each other at the end and say 'that's it'."
So what next, now that the debonair detective has been put to bed?
Next year Suchet will embark on a world tour of The Last Confession, a play he starred in at London's Theatre Royal Haymarket and the Chichester Festival Theatre.
The actor describes it as "a Vatican mystery about John Paul I who was Pope for 33 days".
"My wife [Sheila Ferris] is going to be in the play with me - she's playing the only nun. It gives me a chance to say thank you to all those countries who have watched my Poirot."
It is very much evident that thoughts of slowing down and lessening his workload are far from Suchet's mind.
"People don't really retire in my business - the phone just stops ringing! If it stops ringing for 15 years and you're still alive I suppose that could be called honourable retirement," he jokes.
"If you don't want to work, all you have to say is 'no' which is the hardest word in the English language for any actor. I'll be saying yes for hopefully a few more years."
Curtain: Poirot's Last Case airs at 20:00 GMT on 13 November on ITV. David Suchet's book, Poirot and Me, is out now.