Korean film festival brings box office successes to London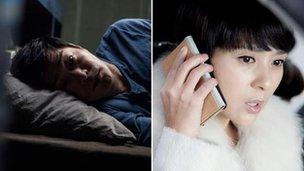 The eighth London Korean Film Festival opens this week, offering UK audiences the chance to see a number of titles that have enjoyed unexpected box office success in their home country.
They include festival opener Hide and Seek, a low-budget home invasion thriller that reached five million ticket sales in less than three weeks, despite having no established stars.
Also on the line-up is The Flu, a disaster movie about an influenza epidemic that had a similarly strong reaction in South Korea last August.
Secretly, Greatly - a comedy about North Korean spies stationed in the South that enjoyed the biggest opening weekend for a domestic release last June - is another crowd-pleaser to feature in the programme.
The event will also screen Wish, whose dramatisation of a real-life child abuse case that became a cause celebre in South Korea saw it top the country's box office chart last month.
The resurgence of home-grown product has not gone unnoticed, with Variety's Patrick Frater remarking this week that "things are looking up for Korean cinema".
"This year has seen a succession of local stories that emerged from indie roots... films made by first or second-time directors... and pic[ture]s that became hits without recognisable stars," the journal's Asia correspondent said.
Earlier this year, Screen Daily reported South Korea's box office hit a record high in the first half of 2013 with 98.5 million admissions.
Its prediction appears to be borne out by Snowpiercer, an ambitious sci-fi epic whose $40m (£24.8m) budget makes it the most expensive South Korean release ever.
The English-language film, whose international cast includes Chris Evans, Tilda Swinton and John Hurt, has made almost $60m (£37m) in South Korea since opening in August according to Box Office Mojo.
It has since opened in France on 300 screens - the widest release ever in that country for a Korean film.
Where the film goes from there remains a moot point, though, amid reports the film is to be substantially cut before distribution worldwide.
The launch of this year's London Korean Film Festival conveniently coincides with a state visit by Park Geun-hye, South Korea's first female president.
The president's visit will include a special preview of Hide and Seek, to take place in London later ahead of the festival's official launch on Thursday.
The South Korean leader was in Paris earlier this week and made a point of highlighting Snowpiercer as an example of cultural collaboration between her country and Europe.
"It is my hope that such similar collaborations can take place in terms of cultural content and technology, and furthermore contribute to cooperative relations," she said on Monday.
Her attendance later will bring an additional charge to an event that has some experience when it comes to attracting high-profile guests.
Last year's closing night gala, for example, saw Bruce Willis, John Malkovich and Dame Helen Mirren come out in support for Korean actor Lee Byung-hun, with whom they were shooting action sequel Red 2 at the time.
Following this year's events in London, the 2013 Korean Film Festival - which features no films from North Korea - will present highlights from its programme in Oxford, Bradford and St Andrews.
It will, however, have to compete for audiences with other specialised showcases of international cinema that are running concurrently.
The capital is also playing host to the UK Jewish Film Festival, which is holding events in London, Leeds, Liverpool, Manchester and Glasgow until 17 November.
This week also sees the launch of the 21st UK French Film Festival, which will bring a selection of Gallic offerings to London, Warwick and eight locations in Scotland until 7 December.
Related Internet Links
The BBC is not responsible for the content of external sites.