Jez Butterworth's award-winning Mojo revived in West End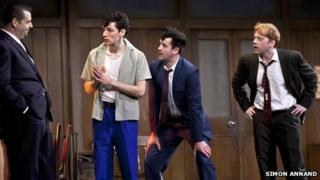 Jez Butterworth's dark comedy Mojo was a hit for the Royal Court theatre in London in 1995. Now it is being revived in the West End by the same director, this time with Harry Potter's Rupert Grint making his professional stage debut alongside the likes of Ben Whishaw and Colin Morgan.
Rupert Grint has appeared in half a dozen film projects since the eighth and final Harry Potter came out two years ago. But the role of Sweets in Mojo takes him far from any world Ron Weasley would recognise.
Jez Butterworth's tale of Soho tough-guys contains a dismembered corpse, copious swearing, a large dollop of sexual ambiguity and some magnificent 1950s quiffs. It's a bit like The Ladykillers reworked by Quentin Tarantino and it's very funny.
"It's great that for my stage debut I'm such a long way from anything I've done until now," Rupert Grint says.
"I've been offered stage things before and I always hesitated: I thought I wasn't ready. I didn't know Jez's play at all so it was a big leap of faith - but that also goes for Ian Rickson (the director). But we've had the luxury of 19 previews to get it right and it's been an amazing experience.
But is he finding it hard to work straight through for two-and-a-half hours, after spending his teens in the endless stop-start process of making movies?
"Well that's what the rehearsals do for you. It's more intense and deeper than in the cinema. In film you dip in and out, with big distractions in between: you don't go into much detail. Theatre is exhausting in a way film-making usually isn't. But it's also really rewarding."
For Colin Morgan the play's a chance to remind audiences he was already a much-praised stage actor before the BBC series Merlin.
"I think for actors variety is always the key, whatever the medium. It's about doing the best work you can in the most interesting projects. So I'm really lucky to find myself in a strong team in a fantastic piece of writing.
Morgan, like all his colleagues, is full of praise for Butterworth's dialogue. "It's deliberately slightly unrealistic, slightly heightened. In one sense that makes it quite difficult to play but it's also a huge delight."
Brendan Coyle is another actor coming to the show after a profile-raising TV role - the valet Bates in Downton Abbey. Like Morgan, he's a fan of Jez Butterworth's way with words.
"There's a communal rhythm and a vibe: we have to tune into each other even more than in most productions. The pace, the language, the imagery are all relentless. But when you feel the audience get into it it's fantastic.
The opening night brought back memories for Stephen Daldry, who in 1995 was responsible for choosing the play for the Royal Court.
"Mojo was the quickest decision I ever took as artistic director: we said yes virtually at once. In theory it was absolutely not how the Royal Court worked but if you know a play is right you go with it.
"The obvious appeal was the use of language. Jez was experimenting with the form of language, which at the time no one else was doing.
"But there was an energy and a freshness and an unpredictability to it. Normally even with a good script you know what's going to happen next. Reading Mojo I didn't know where it was going and that's why I loved it."
Ben Whishaw, now known on screen as MI6's Q, says he accepted the role in part because it's the total opposite of what he's usually offered.
"Often I've played withdrawn or slightly shy characters. Earlier this year I played Peter Llewelyn Davies in the play Peter and Alice: it was a lovely part but I knew I needed to take on something utterly different afterwards. My character Baby seems extrovert and initially comic - but as the play proceeds he gets more ambiguous. So this was a chance to explore something different in myself.
"But in my performance I try not to categorise him as a psychopath. People need to recognise a real human being there. And Jez's slightly heightened dialogue actually helps that process. The language is so rich it seduces the audience."
Mojo at London's Harold Pinter Theatre runs until 25 January, 2014.