Debut novelist Eimear McBride wins first Goldsmiths prize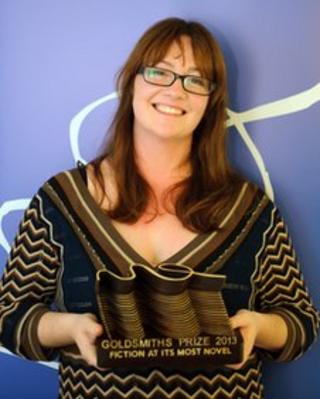 A debut novelist who spent nine years trying to get her first book published has been rewarded with a £10,000 prize.
A Girl is a Half-Formed Thing by Eimear McBride has won the first Goldsmiths Prize, set up this year to "recognise published fiction that opens up new possibilities for the novel form".
McBride's book tells of a young woman's relationship with a brother still afflicted by a childhood brain tumour.
The 37-year-old said it would "encourage writers to be adventurous".
"There was a long time when I thought I would never have this book published," she said at a ceremony on Wednesday held on Goldsmiths' campus in south-east London.
"To have a prize like this is a really wonderful thing."
Born in Liverpool, McBride moved to Ireland when she was two years old and grew up in Mayo and Sligo.
The Irish author wrote her first novel in just six months only to have it turned down by every publishing house she submitted it to.
She then did not look at it again until January this year, sending it out to publishers again without any further revisions.
Using the "stream of consciousness" technique, her book begins with its narrator speaking from inside her mother's womb.
Published by Galley Beggar Press in Norwich, A Girl is a Half-Formed Thing beat five other shortlisted titles to win the prize.
They included Jim Crace's Booker-nominated Harvest and Red or Dead, the latest football-related work from The Damned United author David Peace.
"Boldly original and utterly compelling, Eimear McBride's A Girl is a Half-formed Thing is just the kind of book the Goldsmiths Prize was created to celebrate," said Dr Tim Parnell, chair of the judging panel.
"We are delighted to have found such a remarkable novel in the award's inaugural year."