Doctor Who, the DUP and the Commons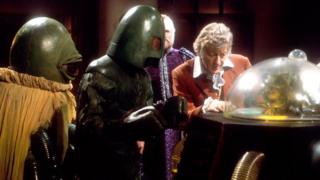 As excited fans get ready for the Doctor Who 50th anniversary this weekend, it seems a bit of the 'Whovian' fever has spread to Westminster.
Perhaps surprisingly, two DUP MPs are at the forefront of the Time Lord commons commotion.
Local MPs Jim Shannon and Willie McCrea have signed a motion which recognises the programme for bringing "pleasure and enjoyment to many generations of fans".
The motion, put forward on Wednesday night, described the long-running programme as "the best of the BBC", and according to Strangford MP and lifetime fan, Jim Shannon, the motion was his idea.
"My only wish is that I could regenerate like the doctor, but unfortunately I'm not a time lord," Mr Shannon said.
"I was eight years old when the show started, and now I'm 58. I've been a Doctor Who follower all my life, even today.
"It's a programme that I have watched, my children have watched and now even my grandchildren are watching it.
"What we are doing by signing the motion is recognising a superb television programme that has lasted for 50 years, it's probably one of the best shows the BBC has ever had," he said.
Doctor Who was first broadcast on BBC One on Saturday 23 November, 1963.
The 50th anniversary extravaganza will see millions of fans celebrate the various doctors, the villains, the companions and of course, the Tardis.
Exterminate! Exterminate!
The Thick of It actor, Peter Capaldi, will make his debut as the 12th doctor in the Doctor Who Christmas Day special.
But Mr Shannon said that out of the 11 doctors that have appeared as the Time Lord since 1963, he does not have a favourite.
However, he also said that despite being terrified of them as a child, he loves the dreaded daleks.
"It's the voice, of course. They're so scary, especially when they say 'exterminate'. When I was young I remember gripping my seat wondering what on earth was going to happen next. They're just brilliant," he added.
Although Mr Shannon said it was a "good news" motion that recognised a classic show loved by viewers across the world, surprisingly only four MPs have signed it so far.
'Pleasure to the UK'
Mr Shannon and his DUP colleague, Mr McCrea, were the only MPs from Northern Ireland to sign it, as well as Conservative MP David Morris and Liberal Democrat, Sir Bob Russell.
Despite a lack of 'Whovian' support in Parliament, Mr Shannon said the motion was put forward simply to recognise the importance of the beloved sci-fi show's half-century anniversary.
"For the nation it's still an important part of our modern-day life," he said.
"It's good to recognise something that gives pleasure to the whole of the UK, the nation loves Doctor Who and if it continues for another 50 years there will be many more generations of Shannons watching it."
The Day of the Doctor is on BBC One at 19:50 on Saturday 23 November