Carrie returns for a social media generation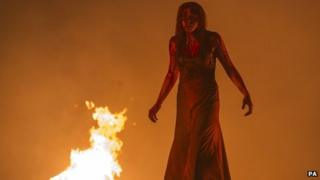 Forty years after it was first published, Stephen King's breakthrough novel, Carrie, is being brought back to the big screen in a modern-day adaptation starring Julianne Moore and Chloe Grace Moretz.
Carrie, the horror story of an isolated and bullied 17-year-old girl who discovers she has telekinetic powers - and uses them to wreak revenge upon her tormentors - sold four million copies when it was published in 1973.
Three years later it was made into a film directed by Brian de Palma and starred Sissy Spacek.
No other big screen version has been made until now, but Boys Don't Cry director Kimberley Peirce wanted to re-imagine it for a different generation - including how social media can be used for harassment.
"It's extremely faithful to the book," Moretz says, "But Kim wanted it to be relatable for an audience watching it today.
"So in the opening shower scene - which if you have read Carrie you will know she gets her period and is totally humiliated by her classmates - they film everything on their phones and the footage goes on YouTube. It's the way it would happen now.
"Someone wouldn't just get their head shoved in their locker at school now if they were being bullied. It would be far more sinister than that these days, because of social media.
"These kids would make things up about Carrie online, they would twist her words. That is actually so much more terrifying, because the psychological terror you get from cyber-bullying is even worse than the fist to the face, because that can heal. Psychological damage is forever."
The Kickass and Hugo star, who started acting when she was four years old, adds she has personal experience of online bullying which has affected her and her family.
"It's extremely relevant to what's going on with me," she says. "We all have to use social media these days and I have two gay brothers. I recently posted a picture of one of them with a flower in his mouth, and the amount of comments I got against him were horrific.
"It's the idea you could have so much hatred for someone you've never met that's disgusting. If you're in the public eye people think because they've bought a ticket to your movie they own you. You seem to think an actor on a magazine cover is a Barbie doll without any sense of feeling, and the things you say randomly about them can really affect them.
"As a 16-year-old coming up, it's terrifying and I am learning how to protect myself. So that's why, when you watch the movie, it shows you how something like this can happen in a small town, but it also highlights the bigger aspect of it, of being 16 and dealing with my own criticism from random people."
Julianne Moore, who plays Carrie's tormented, deeply religious mother, has written a series of books for children called Freckleface Strawberry - her own nickname as a child - to highlight growing up and feeling different.
"We talk about teasing and being different, and people always want to bring up the topic of bullying, but I believe it's not always as extreme as that - there are variations on this behaviour," she says.
"However, when I read the background on Stephen King's Carrie, there were two real-life girls who inspired the character. One was marginalised by poverty and the other one by her parents' own extreme religious beliefs.
"Neither of these girls lived very long - in other words they were so pushed to the margins of society they were actually prevented from living long, happy lives.
"Teenagers don't want to be different and I think as adults it's important to set an example of not having a crowd mentality and not participating in meanness. Carrie is a cautionary tale, in many ways."
As a young, struggling author in 1973, King's wife Tabitha had to pull his Carrie script out of their rubbish bin and persuade him to continue writing.
He would later describe Carrie: "In retrospect, she reminds me of a cookie baked by a first grader - tasty enough, but kind of lumpy and burned on the bottom."
Critics have compared the new version unfavourably to the 1976 film, with Empire magazine commenting De Palma's "soulful, haunting take was and is so indelible that it would make any director look anonymous in comparison".
Time Out said: "Carrie is no match for the spooks and the shocks of the original, which still gives The Shining a run for its money as the best film of a Stephen King novel."
However Moretz, who has already appeared in other movies of the same genre including 2005's The Amityville Horror and Hammer-produced movie Let Me In, describes her role as "iconic".
"At the end of the day she is a Stephen King character, and when I auditioned for the part, I never thought I would get it," she says.
"I know it's a horror story and of course the famous image is of Carrie covered in blood, but really it's a timeless idea Stephen King was talking about.
"It's all about growth and awakening - mentally and sexually - but then kids pushing kids and the brutality that comes with a tribal society. It's a natural instinct that these kids take too far."
Carrie is released in the UK on November 29th