Bodie and Doyle were 'the Beatles' of TV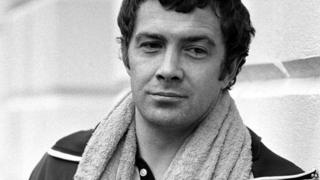 The Professionals actor Lewis Collins, who has died of cancer aged 67, was the quintessential British hard man.
He was best known as Bodie, the series' co-lead character: A former paratrooper, current womaniser and eternal bruiser.
Director Ian Sharp worked with Collins on The Professionals and, later, the British film Who Dares Wins - where the actor played an undercover SAS officer.
Among his other projects, Sharp also directed the action scenes in the James Bond film Goldeneye, the first starring Pierce Brosnan.
He shares his memories of working with Collins.
On the Professionals...
I have extremely fond memories of working with Lewis, he was an absolute delight from day one
I've never know anybody to take in a script as fast. He never learnt it, he just looked at it before we were due to do the scene and he was invariably word perfect. He was a professional to his fingertips.
The other thing I would say about him [was] he had a wonderful sense of humour. He was a Birkenhead boy, a real Liverpool lad and he inherited that great sense of humour - so he nicked every scene where there was a funny line.
On his similarity to Bodie...
I think they were fairly close, actually. I know that if he hadn't turned to acting then he would probably have gone into the army - but he had this gift. He was this tough old character but he had this soft side to him as well.
On the fans...
They did get lots of fan mail, both of them. When you went out on location with them, they were like the Beatles. It was unbelievable how people figured out where we were shooting. We had to try and get it done before word got round and then leg it to the next location!
They were both extremely popular with the ladies. They were both good looking boys.
On making Who Dares Wins...
He passed SAS selection. I met his major and I went with him to Hereford before filming, because they unofficially co-operate. I saw Lewis go on the firing range - which as you can imagine was quite demanding - with a weapons instructor who do not want a film made about the SAS and was a rather fierce individual. He was astounded at Lewis's ability with a gun.
On Collins's James Bond audition...
Everybody agrees Lewis would have made a great James Bond. He had all the right qualities: He had the looks, he had the humour, he didn't take himself too seriously.
I've worked subsequently with a lot of action men and hordes of stuntmen but Lewis... You could let him do his own fight sequences. There weren't many others.
I think he probably did a fairly aggressive interview thinking that Cubby (Bond producer Cubby Broccoli) would buy that.
Why his career didn't take off...
It's a mystery to all of us. I lost touch with him a bit after Who Dares Wins, I think he was a little bit disillusioned with it and I'm not sure why.
These days people would grab him with both hands. In those days, they wanted the smoothie type, like Roger Moore and, if you like, he was a Daniel Craig in a Roger Moore era.
I don't know if he had a reputation for being difficult, he wasn't. Like a lot of actors described as difficult, they're the ones who really care and he did.
I ordered berets for the actors (On Who Dares Wins) and I wanted them steamed so they would fit the actors snugly and they weren't done properly. He refused to leave his dressing room for two hours and we had to shut down production until they were fixed by the wardrobe department and our wonderful extras stopped looking like they were wearing velvet flowerpots and like proper soldiers.
In one sense they would say he was being difficult but he was right, they would have looked ridiculous.