American Hustle makes AFI's top 10 films of 2013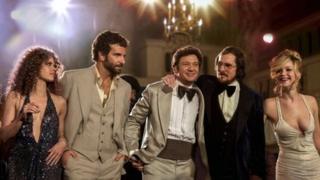 American Hustle, Gravity and 12 Years a Slave have been named among the American Film Institute's (AFI) top 10 films of 2013.
Disney drama Saving Mr Banks, Her, starring Joaquin Phoenix, and Nebraska are also on the list.
The AFI's choices come ahead of the Golden Globe nominations on Thursday as the film awards season gets under way.
The creative teams behind the 10 movies will be honoured at an awards lunch in Los Angeles on 10 January.
The other films to be selected were The Wolf of Wall Street, Captain Phillips, Inside Llewyn Davis and Fruitvale Station.
The AFI list - which has no particular order - is the 14th to date and is chosen by critics, scholars, film artists and trustees of the organisation.
It is regarded as an indicator of the films that will be in the running for best film at the Academy Awards.
AFI president Bob Gazzale called the awards "a moment for the most accomplished storytellers of 2013 to pause and be appreciated - not as competitors, but as a community.
"Acknowledging their collective contributions to America's rich cultural legacy is both AFI's national mandate - and our honour," he added.
Films that have been touted as Oscar contenders but failed to make the AFI's cut include blockbuster The Butler and family drama August: Osage County.
The Oscar nominations will be announced on 16 January, with the awards ceremony taking place in 2 March.
Gravity, American Hustle and Her have already been named best film by critics' groups in the past week.
American Hustle was announced as the winner at the New York Critics Circle, while their counterparts in Los Angeles split their decision between Gravity and Her.
12 Years a Slave has already won plaudits for British director Steve McQueen, who was named best film-maker by the New York Critics Circle.
The AFI also selected its most significant television shows of the year, which included The Americans - making the top 10 for the first time - Breaking Bad, House of Cards and The Good Wife.
Mad Men, the long-running drama set in the world of advertising, appeared on the list for the sixth successive year.