Billy Elliot and Full Monty writers team up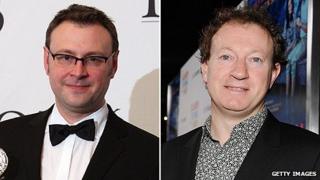 Writers Lee Hall and Simon Beaufoy, who penned the scripts for Billy Elliot and The Full Monty respectively, are teaming up to work on a new film about controversial cricketer Harold Larwood.
The pair are writing a screenplay about the former England bowler, who sparked the Bodyline scandal in the 1930s.
Larwood's high-speed bowling caused outrage when he played Australia.
It is one of five new Hall screenplays that will be previewed on stage at Live Theatre in Newcastle next spring.
They will be given rehearsed readings by actors as part of the script development process.
The Harold Larwood script is described as "the extraordinary story of ex-miner Larwood who becomes the world's fastest bowler only to fall foul of the British establishment during the Bodyline Test series".
Larwood caused controversy and a diplomatic stand-off when his aggressive bowling style left an Australian batsman with a fractured skull in Adelaide in 1933.
The players feared a riot at the time and the ensuing row between the UK and Australia led to the prospect of a British boycott of Australian goods.
Hall also wrote the play The Pitmen Painters and co-wrote the film version of War Horse. Beaufoy's other film credits include Slumdog Millionaire and Salmon Fishing in the Yemen.
The rehearsed reading will take place at Live Theatre on 23 January. The following day will see a reading of Hall's script for a film version of George Orwell's book Down And Out In Paris And London.
In March there will be a reading of Hall's script for Rocketman, about the life of Sir Elton John "from birth to rehab - as told in an outrageous musical extravaganza".
Rocketman will begin filming later in 2014 and will star Dark Knight Rises actor Tom Hardy as the pop star.
There will also be airings for Hall's screen adaptation of Edmund De Waal's family memoir The Hare With Amber Eyes and a script about French composer Olivier Messiaen, who wrote Quartet for the End of Time while in a German prisoner of war camp during World War Two.
The readings come 15 years after an earlier selection of Hall's works in progress were given similar readings at Live Theatre. They included one titled Dancer, which went on to become Billy Elliot.
The film was released in 2000, was nominated for three Oscars and has since been adapted for a long-running West End stage show.