Critics in two minds over Matt Smith's American Psycho musical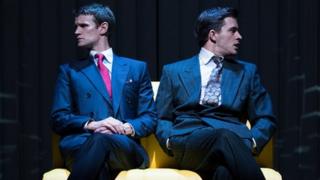 Doctor Who star Matt Smith has divided theatre critics in his musical theatre debut in an adaptation of American Psycho.
The production, at the Almeida Theatre in London, is based on Bret Easton Ellis's best-selling tale of murderous New York yuppie Patrick Bateman.
In its review, Variety said: "Beneath the highly polished surface there's little drama or, crucially, danger."
However, the Guardian's four star review said the show "works superbly".
Critic Michael Billington praised director Rupert Goold's "stylish production, Duncan Sheik's music and lyrics and Matt Smith's beautifully defined performance as the deluded hero".
The two-hour show mixes '80s classics from Huey Lewis and the News and the Human League with original songs such as the opening number - Clean - to possibly the first and only ode to the joys of business cards.
The song Hardbody, performed by a cast dressed in skimpy fluorescent aerobic outfits, speaks to the character's obsession with appearance, while at one point Smith performs a sexual threesome with a large pink teddy bear.
Speaking to the BBC after the show, the actor admitted his first appearance on stage, clad only in a pair of tiny white underpants and an eye mask was a bit of a hurdle.
"Its kind of cool, there's something sort of superhero-ish about it which is fun. But I shouldn't really be drinking this beer, it's not good for the tighty whities."
Writing in Variety, David Benedict said: "The tall, fit body of ice-cool Matt Smith in nothing but tight white briefs and an aqua eye mask — slavishly re-creates the UK's DVD cover image of the movie.
"But where the movie cleverly played with audience's fears by presenting Bateman's shocking behaviour as real and only later suggesting everything to be his fantasy, the stage production never really allows us to believe that Patrick is a reliable narrator," it continued.
The Telegraph was altogether more damning in its two-star review, calling the production: "glib, heartless and pretentious".
Critic Charles Spencer said: "You could sense the audience lapping up this empty mixture of ironic style and sudden moments of violence."
Though he had praise for the "excellent" score, adding the "neat mix of original songs that are witty, tuneful and tinged with melancholy".
Composer Duncan Sheik admitted his first thoughts on a musical adaptation of American Psycho, which caused a storm when it was released in 1991 with its lurid descriptions of savage violence, were not wholly positive.
"I thought it was not a very good idea at first myself and I had to go back and re-read the book to even get a handle on how it could maybe be a musical.
"I thought what could be interesting was a musical where all the instruments were completely electronic, using analogue synthesizers and drum machines and maybe it would speak to the kind of soulnessness of Patrick Bateman.
Director Rupert Goold, who has had huge success with National Theatre shows ENRON and The Effect, agreed the premise was "risky".
"But, in a way all musicals are risky," he said. "I think the secret to successful musical theatre is that the people who make it are passionate about watching it themselves.
"I'm not even sure its a conventional musical, it's a piece of music theatre, it's a play with a wonderful lead characters that has got a lot of songs in it."
With a set designed by Es Devlin, who has created staging for music artists including the likes of Kayne West and designed the set for the closing ceremony of the London Olympics, the Mirror newspaper called the show "a stylish feast" while a glowing review in the Independent praised a "diabolically slick production".
Referring to the movie adaptation of the book in 2000, it added Smith's "compelling Patrick is more opaque and much less manic than Christian Bale in Mary Harron's excellent movie".
Smith said: "I saw the film years ago and then I returned to the book when I got the role, I loved both of them," adding he was able to avoid mimicking Bale's performance.
"It was so long ago and I don't really have that vivid memories of the film so I took the book on face value."
The Evening Standard's four-star review praised an "intriguing blend of nihilism, cold vanity and twisted charm".
Director Goold said the show managed to tread a thin line between the razor sharp satire of the book and its comment on vapid consumerism and all out played-for-laughs musical parody.
"It always the great challenge, I think that we defaulted to worrying about the disturbing material but what we learned in previews was that the audience was hungry for that. If you go to the cinema and see Alien or Jaws, you want to be scared and people want to see American Psycho and feel it's a bit disturbing."
The Arts Desk praised Smith's performance as "a marvel, proffering an increasingly anxious and self-loathing narcissist who, far from meeting his comeuppance, represents just the sort of unknowable charmer who may walk among us still, attracting both sexes along the way".
But, it added, "if Smith isn't much of a singer (let's just say one wouldn't pay to see his Billy Bigelow), the Doctor Who star's somewhat off-kilter sound is perfect for Bateman's own sidelong glance at the society he wants to send to the slaughterhouse".
Smith said: "I've never sang before so it was a full zero to trying to sing in seven weeks so I just thought it was a remarkable challenge. I had a go and you do the best you can do.
He said his early attempts at singing had been tolerated by his "cool neighbours".
"There's a Brazilian family downstairs and the woman is called Camilla and she is a singer and was really cool about it, she would say, 'I heard you singing today!'"
The run until 2 February has completely sold out, largely on Smith's star power, but Goold said he brings much more to the show than celebrity.
"He carries two things, both of which are Doctor Who-eqse, I guess. One is that there's something a bit other, a bit alien about him which is important. But he also has incredible soulfulness and a vulnerability about him. He [as Patrick Bateman] says awful things and does even worse things and you sort of care about him."
Smith agrees the role called for him to explore the character's humanity, however deeply he has buried it.
"I think there's more than just a chink of humanity, I think there's a lot. It's so subjective. I think if we're going to spend two hours on a stage with someone, you've got to engage with him."