Peter O'Toole: In quotes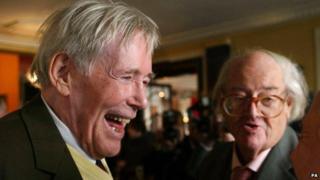 A selection of some of the best quotes from actor Peter O'Toole, who has died aged 81.
On predicting his future career
"I will not be a common man because it is my right to be an uncommon man. I will stir the smooth sands of monotony" - from an early poem
On becoming an actor
"I hitched to London on a lorry, looking for adventure. I was dropped at Euston Station and was trying to find a hostel. I passed the Royal Academy of Dramatic Art, and walked in just to case the joint."
He later said his studies at Rada under a scholarship began "quite by chance... not out of burning ambition but because of all the wonderful-looking birds".
On drinking and health
"If you can't do something willingly and joyfully, then don't do it. If you give up drinking, don't go moaning about it; go back on the bottle. Do. As. Thou. Wilt."
His house rules for a New Year's Eve party at his Hampstead home: "Fornication, madness, murder, drunkenness, shouting, shrieking, leaping polite conversation and the breaking of bones, such jollities constitute acceptable behaviour, but no acting allowed."
"The only exercise I take is walking behind the coffins of friends who took exercise."
On fame after Lawrence Of Arabia
"I woke up one morning to find I was famous. I bought a white Rolls-Royce and drove down Sunset Boulevard, wearing dark specs and a white suit, waving like the Queen Mum."
"Stardom is insidious. It creeps up through the toes. You don't realise what's happening until it reaches your nut. That's when it becomes dangerous."
On acting
"I'm a very physical actor. I use everything - toes, teeth, ears, everything. I don't simply mean physical in the sense of movement and vigour. I find myself remembering the shape of a scene by how I'm standing, what I'm doing."
"I take whatever good part comes along," O'Toole told The Independent on Sunday newspaper in 1990. "And if there isn't a good part, then I do anything, just to pay the rent. Money is always a pressure. And waiting for the right part - you could wait forever. So I turn up and do the best I can."
"The love of it is great, huge and it will be with me forever. I blundered into it, found I could do it well. It has raised me from nothing into something, not a lot, but something. If you do something well and you enjoy it, what more can you bloody well ask?"
On the critical savaging of his stage Macbeth in 1980: "The thought of it makes my nose bleed."
On his honorary Oscar
When the Academy originally offered O'Toole the statuette he requested as he was "still in the game and might win the lovely bugger outright, would the Academy please defer the honour until I am 80?".
Upon receiving the lifetime achievement at the 75th Academy Awards in 2003: "Always a bridesmaid never a bride my foot!"
On subsidised theatre
"It is the same rules for us as it is for cricket, boxing, anything. We are an entertainment. We have to live and thrive in a competitive market. If we become an overprotected species we are dead."
On his retirement
A month before his 80th birthday in 2012, O'Toole announced it was time to "chuck in the sponge" and retire from stage and screen.
"The heart for it has gone out of me. It won't come back. My professional acting life has brought me public support, emotional fulfilment and material comfort. However it is my belief that one should decide for oneself when it is time to end one's stay. So I bid the profession a dry-eyed and profoundly grateful farewell."