Why Robert Redford lost his voice in All is Lost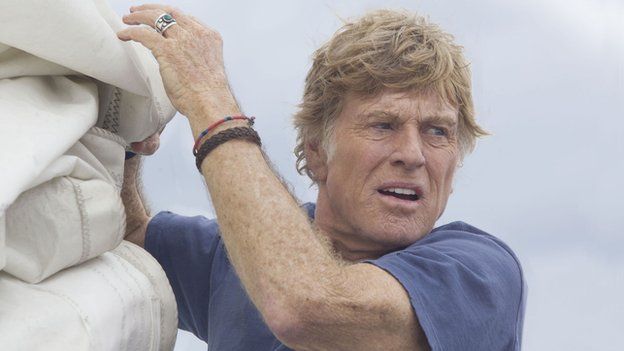 In his latest film role, Robert Redford plays a sailor battling to survive when his boat is wrecked during a solo voyage in the Indian Ocean.
As the only cast member in All is Lost, Redford, 77, has to hold the screen for the film's 106 minutes. What makes his performance all the more remarkable is that he hardly utters a word.
The film's only real spoken lines come in a voiceover at the start when Redford's character - known only as Our Man - reads out a valedictory letter to his family and friends.
After that he faces high seas and violent storms with an almost silent stoicism.
"If you'd cast Jack Nicholson in the role it would have been a different movie and I'd have rewritten it with a running commentary," explains director and writer JC Chandor.
"But Redford has an... innate ability to communicate complex emotional transitions non-verbally."
Chandor made his name with 2011's talky financial crisis drama Margin Call, a debut feature that earned him an Oscar nomination for best original screenplay.
All is Lost couldn't be more different. Chandor's screenplay was 31 pages of prose description, with no dialogue. A typical film script might have 120 pages.
Chandor was inspired to write the film's opening letter on a train journey along the US coast, while he was hard at work editing Margin Call.
"I was taking train rides up and down the eastern seaboard where I could see these middle-class towns where everyone has boats. I wrote this longing, sad letter on one of those train rides."
Chandor had the idea of casting Redford for All is Lost while at Redford's annual Sundance Film Festival in Utah.
During Redford's welcoming speech, a technical hitch meant that a speaker close to Chandor stopped working and robbed the actor of his voice.
"I was struck by the contrast," says Chandor. "Here was this guy across the room I could barely hear. A month later, I couldn't get it out of my head. I offered him the role and expected not to hear anything."
Five days later Chandor was summoned to meet Redford in Los Angeles. He flew over armed with his flimsy 31-page screenplay.
"I'd prepared graphs and diagrams but I didn't even get into the sales pitch - six minutes into the meeting he looks at me and says, 'Let's do this'."
The film begins with Redford's unnamed sailor waking to find his 39ft yacht badly damaged by a collision with a giant shipping container adrift in the ocean.
With his navigation equipment and radio out of action, he has only a sextant, nautical maps and his own survival instinct to help him.
But what effect did Chandor hope to achieve by taking Redford's voice away?
"He has this great, beautiful voice, but if you tie that behind his back it allows the audience to forget that it's Robert Redford.
"The hope was that this was an Everyman. That's why there's not much backstory. We wanted to make sure you knew he had a family and that he is not a person who has been sailing around the world for 20 years.
"I believed that taking Robert Redford and putting him in such an abstract, absurd situation might give him a chance to have a totally fresh palette with an audience, especially an American audience, who know his movie icon status."
According to Chandor, test screenings prove the plan worked. "People were telling us that five minutes into the movie they forget it's him."
The test screenings also showed how audiences were split about what happens at the end of the film.
No spoilers here, but Chandor is struck by how two people sitting together can come away with such different interpretations.
"The thing that drove me to write this is that it's a meditation on mortality," he says.
"If you don't embrace that every day is a gift, you can find yourself a 75-year-old not quite having felt like you've lived every day."
All is Lost is out in the UK on 26 December.