TV hit Broadchurch tops critics' poll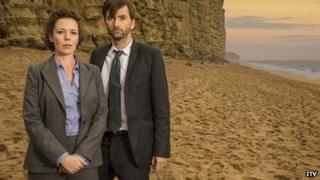 Broadchurch, starring David Tennant and Olivia Colman, has been named the best television programme of 2013.
The annual poll of Radio Times critics chose the ITV drama, about a detective investigating the murder of a child in small-town England over hit US series Breaking Bad and Homeland.
Radio Times' Tim Glanfield called it "a brilliant piece of home-grown drama with an exquisite cast of actors".
"Broadchurch is a fantastic example of British TV at its very best."
The murder mystery drew around nine million viewers each week during its eight-episode run earlier this year.
The filming of a US version, also starring Tennant, will begin in January and is expected to be broadcast there later in the year.
A second series is also expected this year on ITV.
French thriller The Returned, which aired on Channel 4, took second place in the poll, ahead of C4's own fly-on-the-wall documentary Educating Yorkshire.
BBC's Top of the Lake, which recently picked up a string of Golden Globe nominations, was voted fourth, just ahead of James Corden's BBC Two comedy The Wrong Mans.
Audience favourite The Great British Bake Off, C4 comedy Toast of London and BBC drama Peaky Blinders also made the cut.
Breaking Bad was the only show not to have been screened in full on British TV to make the top 10.