Film posters withdrawn over race bias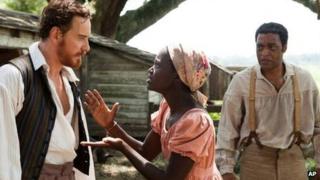 An Italian film distributor has apologised after releasing unauthorised posters which promoted white actors over black actors in 12 Years A Slave.
Unofficial posters for the film gave prominence to white stars Michael Fassbender and Brad Pitt over the film's leading man, Chiwetel Ejiofor.
BiM Distribuzione apologised for the "inappropriate" promotional material.
"We are very proud of the film and regret any distraction this incident may have caused," a statement said.
"We apologise for creating and releasing unauthorised posters for 12 Years A Slave in Italy featuring Brad Pitt and Michael Fassbender in a manner inconsistent with approved advertising materials," said BiM on Friday.
"All inappropriate materials have now been withdrawn."
The film tells the true story of New Yorker Solomon Northup who was kidnapped and sold into the slave trade in 1841.
'Immediate action'
Protagonist Northup is played by British actor Ejiofor, earning him a Golden Globe nomination earlier this month.
Fassbender, who has attracted strong notices for his supporting role, plays a sadistic plantation owner, while Pitt - who is a producer on the film - has a minor role as a labourer.
The posters, which appeared across Italy earlier this week, prompted a widespread criticism on social media, for their focus on Fassbender and Pitt.
Responding to criticism, sales agent Lionsgate's Summit said, earlier in the week, that the posters in Italy were not authorised or approved by the producers of the film.
A statement said the company was "investigating and taking immediate action to stop the distribution of any unauthorised posters and to have those posters currently in the marketplace recalled".
Directed by Britain's Steve McQueen, 12 Years A Slave is the frontrunner at this year's Golden Globe awards with seven nominations, including best film drama, best actor in a drama and best director.