Guardian journalist Simon Hoggart dies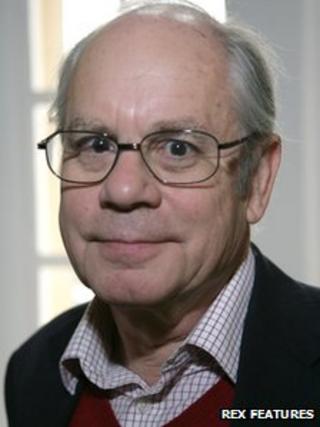 Guardian journalist Simon Hoggart has died aged 67 from pancreatic cancer, the newspaper has confirmed.
Hoggart, who died on Sunday, was also known for presenting Radio 4's The News Quiz for 10 years up until 2006.
The Guardian's editor, Alan Rusbridger, said: "Simon was a terrific reporter and columnist - and a great parliamentary sketch writer."
Hoggart wrote political sketches for the Guardian, and a column on wine for the Spectator.
The writer, who was diagnosed with terminal cancer three and a half years ago, died at the Royal Marsden hospital in London.
Rusbridger added: "He wrote with mischief and a sometimes acid eye about the theatre of politics. But he wrote from a position of sophisticated knowledge and respect for Parliament.
"A daily reading of his sketch told you things about the workings of Westminster which no news story could ever convey. He will be much missed by readers and his colleagues."
Hoggart gave up his Saturday column for the newspaper in December following complications from his condition and another round of chemotherapy.
His final article, a review of the year, appeared on 19 December.
Hoggart's Guardian review of the year included the death of Margaret Thatcher, the birth of Prince George and the resurrection of the idea of leaving the EU.
He rarely mentioned being ill, although in a November column he wrote: "I've been off sick for the past week or so. It's a weird experience being at home, alone for the most part - like being a goldfish in a bowl of treacle, moving slowly and largely pointlessly.
"Much of the time I have felt too ill to read anything, so I watch daytime television. A lot of it is hypnotising."
He never shied away from fierce criticism of politicians - in a recent sketch, he described shadow Chancellor Ed Balls as sounding "like King Lear, raging against the storm that was blowing outside".
And in his final sketch, he wrote that "David Cameron smiled like the Cheshire Cat after a large sherry".
But the Prime Minister was among those paying tribute to the writer on Monday, saying: "Westminster has lost one of its funniest parliamentary observers.
"Simon was an acute and witty recorder of British politics and one of the pioneers of the art of sketchwriting.
"Above all he was also an extraordinarily nice man. I was very sad to hear of his death after his battle with cancer, and I send my condolences to his family and friends."
Hoggart lampooned many government heavyweights over the years, including the former deputy prime minister John Prescott and gleefully reported on Mr Prescott's performances when he took Prime Minister's Question Time in Tony Blair's absence.
The writer described Gordon Brown's smile by writing that it looked "as if the nodding dog in a car was channelling the Joker".
He also once described John Redwood as "not a space alien, but a nerd, a school swot, the kind of chap who gets too interested in his subject. I used to expect him to appear in the chamber wearing short pants with a sliderule down his socks".
'He never sneered'
The BBC's political editor Nick Robinson described Hoggart as "a giant amongst political commentators".
"Few could match his wit and wisdom. He often laughed at politicians. He sometimes laughed with them. However, he never ever sneered at them," he added.
Former prime minister Tony Blair added his tribute by saying it was "a very sad moment for UK journalism".
"Simon was an outstanding commentator and writer with extraordinary wit, humour and insight. My deepest condolences and sympathy to all his family."
Labour leader Ed Miliband added that Hoggart was a "brilliant and funny writer who will be missed in Westminster and beyond".
Conservative MP Michael Fabricant, a regular target of Hoggart's sketches, said: "Such sad news. He teased me mercilessly but always kindly."
Gwyneth Williams, controller of BBC Radio 4 said he would be remembered "most fondly for his contribution to the News Quiz.
"He was hugely popular with our listeners who valued his lively mind, his wit and humour, his love of satire and deep knowledge of politics which helped to turn the show into what it is today. He will be sadly missed."
Comedian Jeremy Hardy added: "My happiest days on the News Quiz were with Linda and Alan, and Simon Hoggart in the Chair, a gracious, generous, witty host."
Actor David Morrissey tweeted that Hoggart had helping him with roles in political dramas.
'Get a move on'
"Very sad to hear the news about Simon Hoggart," he said. "He was a great help to me on State of Play and The Deal. A wonderful columnist. RIP."
Hoggart grew up in Hull and Leicester before joining the Guardian straight from university and first began his sketches there in the 1970s - resuming this work in 1993 after a 12-year-stint at the Observer.
A prolific writer, he also published 20 books and took part in many radio and TV programmes.
Guardian colleague Michael White said Hoggart "remained determined not to give up, nor to let his illness become widely known lest it detract from the laughter he always sought to generate".
Journalist and broadcaster Andrew Neil added that the columnist was "much loved".
Referring to his time at the helm of the News Quiz, his Radio 4 colleague Corrie Corfield also paid tribute, saying: "[I] like to think that somewhere rather special Simon Hoggart is now being told to get a move on by Alan Coren, with lovely Linda Smith laughing."