Jane Campion to preside over Cannes Film Festival jury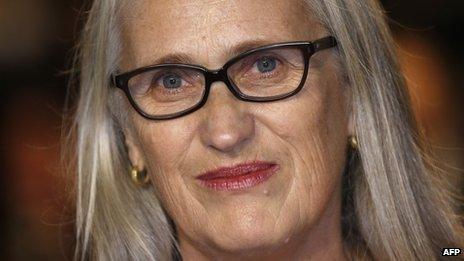 Film-maker Jane Campion is to head this year's jury at the Cannes Film Festival, organisers have announced.
The New Zealander is best known for The Piano, which made her the first, and so far only, female winner of the Palme d'Or at the French film gala in 1993.
Campion said she was "truly honoured" to be offered the role, adding: "I can't wait."
The director succeeds Steven Spielberg in the role. This year's Cannes Film Festival takes place from 14-25 May.
Campion, whose work on The Piano won her a best screenplay Oscar, was called "a major film-maker and indefatigable pioneer" by Cannes organisers.
The film, in which a mute mail-order bride and her daughter arrive in New Zealand with few possessions, except a large piano, also netted Academy Awards for actresses Holly Hunter and Anna Paquin.
More recently, Campion worked on television drama The Lake, which reunited her with Hunter. The mini-series was screened on BBC Two in the UK.
Campion called Cannes "a mythical and exciting festival where amazing things can happen, actors are discovered, films are financed careers are made.
"It is this worldwide inclusiveness and passion for film at the heart of the festival which makes the importance of the Cannes Film Festival indisputable," said the film-maker.
In 1986, Campion's short film Peel won the main prize in that category at Cannes. Last year she headed the short feature jury.
While she is the first woman to have won Cannes' chief honour the Palme d'Or, female film luminaries have acted as president of the jury at previous festivals, including Liv Ullmann in 2001 and actress Isabelle Huppert in 2009.
Related Internet Links
The BBC is not responsible for the content of external sites.