Baftas 2014: Ten things to note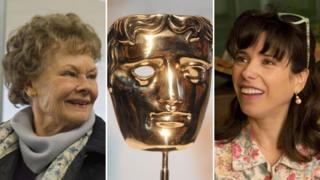 This year's Bafta film nominations have been announced, and Gravity leads the field with 11 nominations. But what else is there to note about this year's shortlist?
True stories dominate the main film categories
Almost all the nominees for best film and outstanding British film are based on true stories, with the exception of Gravity, Alfonso Cuaron's 3D film about astronauts adrift in space, and The Selfish Giant, a modern twist on an Oscar Wilde short story set in Yorkshire.
Among them are Philomena, about an Irish woman's search for the son she was forced to give up for adoption. The screenplay is based on a book by former BBC foreign correspondent Martin Sixsmith. Dame Judi Dench spent time with the real Philomena Lee in order to develop her on-screen character.
12 Years a Slave is based on Solomon Northup's 1853 memoir about being kidnapped and sold into slavery in 1841. Captain Phillips, by contrast, is inspired by more recent events - the 2009 hijacking of the US container ship Maersk Alabama by a crew of Somali pirates.
Interestingly, crime thriller American Hustle, the story of con man Irving Rosenfeld, played by Christian Bale, rejects the oft-seen "Based on a true story" title card with the more quirky "Some of this actually happened".
American Hustle's actors score a full house
David O Russell's ensemble cast gets into all four of the top acting categories (12 Years a Slave manages three).
Christian Bale, who gorged on donuts and cheeseburgers to gain weight for his role, is nominated for leading actor. Amy Adams is in the running for best actress, whilst Bradley Cooper and Jennifer Lawrence are up for their supporting roles.
American Hustle is also up for best film, and Russell gets a director nod. It's also in contention for original screenplay, production design, costume design and make up and hair.
It's a good year for British talent
A wealth of British names appear in the acting categories: Chiwetel Ejiofor (12 Years a Slave) and Christian Bale (American Hustle) are up for best actor, while the best actress field sees Dame Judi Dench (Philomena) up against Emma Thompson, who plays Mary Poppins writer PL Travers in Saving Mr Banks.
Many will be pleased to see Sally Hawkins recognised for her role as Ginger in Woody Allen's Blue Jasmine. Her performance has been somewhat eclipsed by the praise Cate Blanchett received for playing her socialite sister who has fallen on hard times.
Also in the main categories, Paul Greengrass (Captain Phillips) and Steve McQueen (12 Years a Slave) are both nominated for best director, while comic and actor Steve Coogan and Jeff Pope are nominated for best adapted screenplay for Philomena.
Dame Judi makes it a record year
Dame Judi Dench's leading actress nomination for Philomena gives her a total of 15 Bafta film nominations - making her the most nominated actress in the ceremony's history. In recent years, she's largely appeared in the supporting category - for My Week with Marilyn (2012) and Skyfall (2013).
She's had six wins - the last was for Iris in 2002. Will Philomena make it seven?
Woody Allen remains the recipient for the most nominations in film with 24 nominations and 10 wins. This year he's up for original screenplay for Blue Jasmine. He was honoured with a Bafta Fellowship in 1997.
Some favourites got snubbed
So who missed out? Dallas Buyers Club, which has gained plenty of Oscar momentum in recent weeks, particularly for lead actor Matthew McConaughey, came away with nothing.
Others who didn't make the best actor list include Robert Redford, for his almost wordless performance as a stranded sailor in All is Lost, and Idris Elba for Mandela: Long Walk to Freedom, which got a solitary nomination, for outstanding British film.
There was just one nomination too for family saga August: Osage County, with Julia Roberts getting a nod for best supporting actress, but nothing for Meryl Streep's acid-tongued matriarch.
Streep, widely tipped for an Oscar nod, could well have been edged out of the best actress field by American Hustle's Amy Adams. It will be interesting to see if this is mirrored when the Academy Awards nominations are announced on 16 January.
Film success doesn't always translate to the director, and vice versa
As American film producer Harvey Weinstein feared when he spoke to the BBC ahead of the nominations, Stephen Frears missed out on a director nod, even though Philomena was shortlisted for best film and outstanding British film. Weinstein noted that the movie was "not as flashy" as some of its competitors.
Frears, it seems, was nudged out by Martin Scorsese, whose The Wolf of Wall Street did not feature in the best film list.
Wolf did, however, get nominations for best adapted screenplay, best editing, by Scorsese's long-time collaborator Thelma Schoonmaker and, of course, Leonardo DiCaprio's lead performance as drug-fuelled high-living stockbroker Jordan Belfort.
Joel and Ethan Coen's 1960s musical odyssey Inside Llewyn Davis earned them an original screenplay nomination, but nothing for directing or best film.
It's been a good week for Lupita Nyong'o
The Kenyan actress, who makes her feature film debut in 12 Years a Slave, was named earlier this week as one of the five young actors vying for this year's EE Bafta Rising Star award. Now she has a best supporting actress nomination as well.
Born in Mexico, she was raised in Kenya and educated in the US, where she graduated from the Yale School of Drama's acting program.
In 12 Years a Slave, Nyong'o plays Patsey, a farm slave worker who works alongside Solomon Northup (Ejiofor). Her breakthrough performance has already been honoured with the New Hollywood Award and earned her a place on Variety's admired annual 10 Actors to Watch list.
She is nominated for best supporting actress at this year's Golden Globes.
It's also a good week for Barkhad Abdi
A significant new face in the best supporting actor category sees the previously unknown Barkhad Abdi alongside familiar names Daniel Bruhl, Bradley Cooper, Matt Damon and Michael Fassbender.
Abdi makes his film debut as the Somali pirate Muse in British director Paul Greengrass' thriller Captain Phillips.
The film focuses on the relationship between Muse and the captain of a ship he has hijacked, Captain Richard Phillips (played by Oscar-winner Tom Hanks).
The Mogadishu-born actor moved to the US in his teens. Prior to being cast in the film he worked at his brother's mobile phone shop in Minneapolis. He also has a Golden Globe nomination.
British films make their mark in the non-English category
Metro Manila, a crime thriller set in the Philippines, appears among the nominees for film not in the English language - alongside The Act of Killing, Blue is the Warmest Colour, The Great Beauty and Wadjda.
British film-maker Sean Ellis re-mortgaged his home to help fund the production after potential investors wanted him to make it in English, or include an American actor. The film was shot in the Philippines with local actors and all the dialogue is in Tagalog, which Ellis does not speak.
Metro Manila won the best film prize at the British Independent Film Awards in London last month.
The Act of Killing, which explores the Indonesian genocide of the 1960s, also received a documentary nomination. The film, a Danish-British-Norwegian co-production, follows a group of former members of Indonesian death squads as they revisit and re-enact their earlier crimes.
The Selfish Giant is one to watch
Clio Barnard's The Selfish Giant, a contemporary English fable about two excluded schoolboys who start working for a dodgy local scrap dealer, is on the outstanding British film list alongside heavyweights such as Gravity and Saving Mr Banks, about the making of Disney's Mary Poppins.
With backing from the BFI Film Fund and Film4, the film premiered at Cannes and was released in the UK in October.
It gives Barnard her second Bafta nomination, after being shortlisted in 2011 for her "outstanding British debut", The Arbor.
The big question is will this low-budget but hugely acclaimed British independent film manage to sneak in among the headline grabbers and take the prize?
The EE British Academy Film Awards take place on Sunday 16 February at the Royal Opera House in London's Covent Garden. Stephen Fry returns as host and the ceremony will be broadcast on BBC One.