Dave Lee Travis: Profile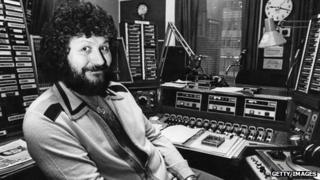 Former Radio 1 DJ Dave Lee Travis, who has been given a suspended sentence of three months for indecently assaulting a woman in 1995, was one of the biggest stars of the British airwaves in the 1970s and '80s.
Travis spent 25 years on BBC Radio 1, including two as the host of the Breakfast Show.
He appeared numerous times on TV programmes such as Top of the Pops, making the larger-than-life personality a household name.
He started his career as a nightclub DJ in Manchester in the early 1960s before joining pirate station Radio Caroline, broadcasting from ships off the coasts of Essex and the Isle of Man.
One of many pirate DJs to be recruited by the BBC, Travis joined the new pop music station Radio 1 shortly after its launch in 1967.
A hit with his personable style and madcap humour, he became the third Radio 1 Breakfast Show host when he took over from Noel Edmonds in 1978.
It was during his early morning stint that the heavily-bearded presenter, who had previously adopted the nickname The Hairy Monster, began referring to himself as The Hairy Cornflake.
The disc jockey also became known for his wacky sound effects - including his trademark "quack quack oops" - and games such as snooker on the radio.
He was a regular host of Top of the Pops in the 1970s and 80s and is one of the few presenters to have also sung on the show. His 1976 novelty hit Convoy GB, released under the name Laurie Lingo and the Dipsticks, reached number four in the charts.
But by the 1990s, the time had come for Travis to make way for a new generation.
When a new controller started an overhaul of Radio 1, Travis jumped before he could be pushed. He surprised his bosses and listeners by announcing his resignation live on air in 1993.
"Changes are being made here which go against my principles, and I just cannot agree with them," he declared.
As well as being a star on Radio 1, Travis was known to millions worldwide through his music request programme A Jolly Good Show on the BBC World Service.
He first hosted the show in 1981 and remained until 2001, winning fans including the Burmese pro-democracy leader Aung San Suu Kyi, who said it had given her a lifeline during more than two decades of house arrest.
Ms Suu Kyi said the show had made her "world much more complete" and she met Travis in London in 2012.
After Radio 1, Travis went on to host shows on stations including Classic Gold, Magic AM, BBC Three Counties Radio and Spain's Spectrum FM.
But in November 2012, Travis - whose real name is David Patrick Griffin - was arrested on suspicion of sexual offences.
At a trial earlier this year the star, who is now 69, was cleared of 12 counts of indecent assault, alleged to have taken place between 1976 and 2008.
'Larger than life'
The jury failed to reach verdicts on two counts - indecent assault against a theatre hand while in pantomime in 1990, and sexual assault of a journalist in his home in 2008 - and he was retried on those, plus indecent assault against a researcher on the Mrs Merton show.
He was acquitted of the assault on the theatre hand, and cleared of the assault on the journalist after the jury failed to reach a verdict, but found guilty of the 1995 attack on the TV researcher.
During his court appearances, Travis told jurors: "I have never said, in my life, that I am a sex symbol. No, I am a big, hairy, cuddly bear."
He was described as "larger than life" and a "gentle giant" who was tactile and gave hugs to everyone he met.
Travis is a keen photographer, publishing work and being made a fellow of the British Institute of Professional Photographers.
He denied that his work - which included a book of famous women including Joanna Lumley in a number of quirky costumes and poses - had a sleazy air to it.
When asked on the witness stand about his penchant for photographing women, he said they are "great subjects", adding "they have wonderful curves and things".
Travis has been married to his Swedish wife Marianne since 1971 and the couple live in Buckinghamshire.