Gaye family settles with Sony/ATV in Robin Thicke dispute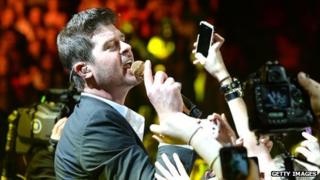 The family of late soul singer Marvin Gaye has dropped a legal action against Sony/ATV amid claims Robin Thicke's hit Blurred Lines copied one of his songs.
A Los Angeles judge granted a dismissal of legal action which stated the music company failed to pursue a copyright case against Thicke.
However, the Gayes' separate case against the chart topper, rapper T.I. and Pharrell Williams remains ongoing.
The artists deny copying Gaye's 1977 song Got To Give It Up.
In a pre-emptive legal action filed last August, they asked a court to rule Blurred Lines did not copy Gaye's track. The musicians argued there were no more than "commonplace musical elements" between the two songs.
But Gaye's three children claimed in a counter legal action in October, stating that Thicke had infringed the copyright of their father's song After The Dance for his track Love After War.
The family have claimed damages and a proportion of the profits from Blurred Lines.
The Gayes had accused EMI, a music publisher owned by Sony/ATV, of failing to protect the late singer's catalogue, suggesting EMI - which also manages the Thicke copyrights - did not want to stand in the way of the huge hit record, and a conflict of interest had arisen.
The family and the music publisher have now reached a settlement, which has not been made public.
Blurred Lines, which netted Thicke his first number one hit in the US, has sold more than six million copies to date in the United States.
It also spent five weeks at the top of the charts in the UK and became the best-selling single of 2013.
Gaye scored a number of hits during his career, including Sexual Healing and Let's Get It On.
He was shot dead by his father in 1984 and was posthumously honoured with a lifetime achievement at the Grammy Awards in 1996.