Do theatre shows really sell-out?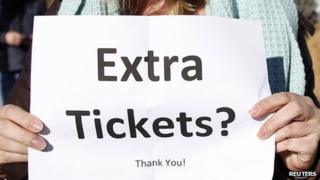 Theatres say there is little they can do to stop the practice of tickets being sold at vastly inflated rates on the secondary market.
The problem affects most of the UK's biggest venues, including theatres that are subsidised by the state.
One website is offering two tickets to see Coriolanus, with Tom Hiddleston in the title role, at the Donmar Warehouse for £2,015 (including fees).
But does anyone actually pay those prices?
Theatre industry expert Terri Paddock says: "Don't believe the hype about sold out shows by and large. There are very few shows that are properly sold out. In the commercial West End, The Book of Mormon is the biggest hit of the past year, but they are releasing tickets all the time."
She points out that the secondary ticket market made big inroads into UK theatre when David Tennant was in Hamlet for the RSC which transferred from Stratford to London in 2008.
"Tickets were going for crazy prices. Then he got a back injury and had to miss pretty much the entire London season and all these tickets people had bought for outrageous prices were worth nothing. That caused a big stink."
So what options are open to someone who wants to see a sold-out show like Coriolanus?
Check at the box office for returns
When we visited the Donmar Warehouse, in London's Covent Garden, on Wednesday night a helpful man at the box office pointed to a few people standing in the queue for returns.
Tickets, he said, could come in "at any time during the day".
Terri Paddock says: "The ticket shortage is only really a problem with subsidised theatre, in small theatres like the Donmar, the Royal Court Upstairs, or the [soon-to-reopen] Cottesloe at the National. But the subsidised theatres have very organised systems for dealing with ticket exchanges - there's a regular supply."
Be prepared to queue for day tickets
In the case of Coriolanus, 20 standing tickets are released by the Donmar. On most days they go on sale at 10am.
The advice from the Donmar box office is to get to the theatre no later than 7.30am.
Isabelle Ralphs, a graduate from Reading, queued regularly for day tickets while studying in London.
Her "most competitive" experience was trying to obtain on-the-day tickets for under-25s for the RSC's Matilda The Musical, a stone's throw from the Donmar.
"I had to try four times before I actually got a ticket," she told the BBC. "I began by getting there about 7am - that wasn't early enough. I had to get there at 5 in the morning and I was fairly near the back of the queue.
"The people at the front had simply gone clubbing and then finished at the club at 3am and, still slightly inebriated, sat on the pavement outside the theatre in Seven Dials for the next five or six hours."
Check if other tickets are available
On Monday mornings, the Donmar releases £10 Front Row seats for performances two weeks later.
Bid for a ticket?
Tickets can turn up on auction sites. A £15 ticket for Coriolanus sold on eBay earlier this week for £251. It was originally offered at face value resulting in 26 bids from four bidders.
What about the secondary ticket sites?
Secondary ticketing websites act as marketplaces, allowing sellers to charge what they like, with the site earning a commission on top.
The BBC has seen tickets being offered on the Viagogo site for £850 each, plus a £255 booking fee, a £9.95 shipping charge, and £51 VAT - making a total of £2,015.95.
Cheaper tickets are available, such as a ticket on the same site for £300 (£363.95 including fees). Rival sites, including Stubhub, owned by eBay, have tickets at similar prices.
Viagogo says that tickets with exceptionally high prices "very, very rarely sell".
Terri Paddock says: "Many commercial West End producers have got quite savvy to it and introduced premium pricing which has had bad press, but really this is a reaction to secondary ticketing. The idea is that if some people are going profit from inflated prices, the money should go back to the people investing in the show."
What about a West End ticket booth?
In Leicester Square, at one ticket booth (which advertised the play as "Coralanus" in large hand-written letters), tickets were offered verbally at £85, £95 or £105 for the end of the week, with no additional fees.
At another booth nearby I stood behind a tourist who bought a ticket for Thursday night's The Book of Mormon for £60.
But enquiries about Coriolanus were met with a blank look.
Enter the ticket lottery
Coriolanus has been extended for an extra six performances from 10-13 February. Due to demand, the Donmar set up a draw "in order to give the fairest access to these extra performances". The draw has now closed.
Successful entrants are selected at random and contacted by email with the offer of buying a maximum two tickets.
Or see it at the cinema
Coriolanus is being broadcast live into cinemas on 30 January by National Theatre Live.
As Terri Paddock points out, this is a growing phenomenon which takes a play to audiences around the globe.
"You'll pay around £15 and you'll see Tom Hiddleston larger than life and much closer than you would in the intimate Donmar."
And some plays can also be watched online, for a price, via sites such as Digital Theatre.