Prince to reveal new London dates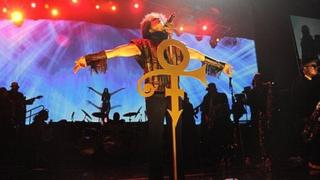 Prince has announced an impromptu concert series in London next month.
The rock star, whose hits include Purple Rain, Raspberry Beret and Cream, will play a number of "iconic venues in and around London", after arriving on 3 February, according to a statement.
Details will be announced in a press conference, set to be held in the flat of UK soul singer Lianne LaHavas.
The dates are in support of a new album, PlectrumElectrum, recorded with his all-female band, 3rdEyeGirl.
"Details about the event are very hush-hush at this time but as we find out more, you will be the 2nd ones to know," said a press release.
Lianne LaHavas, who was on the BBC's Sound of 2012 list, won a Mercury Prize nomination for her debut album Is Your Love Big Enough?
"This 24-year-old singer-songwriter met Prince last year during LaHavas' tour of America," the press release explained. "They jammed together at Prince's Paisley Park Studio in Minneapolis and have kept in touch ever since.
"When Prince told Lianne he was coming to London to launch his new project, Ms LaHavas jokingly offered her flat as the location for the press conference."
Prince last played the UK at the Hop Farm Festival in July 2011. Prior to that, he had played a record-breaking 21-date residency at the O2 arena in 2007.
The 55-year-old musician has a habit of playing "hit and run" shows, often announced just days in advance.
Recent gigs have focused on his guitar-playing, backed by the powerhouse 3rdEyeGirl - three women he found online or through recommendations, and started playing with last January.
Guitarist Donna Grantis, drummer Hannah Ford and bassist Ida Neilsen have pushed harder tracks like Bambi and I Could Never Take The Place Of Your Man to the front of his set-list.
Poppier moments, such as She's Always In My Hair, have been retro-fitted with blazing guitar solos in the style of Jimi Hendrix and Santana.
The band have also premiered a slew of new tracks - such as Screwdriver and Breakfast Can Wait - via Twitter and YouTube over the past year, as well as footage from live shows.
However, it is not yet known what material will make the final cut of the PlectrumElectrum album.