Sky extends deal to air HBO shows in the UK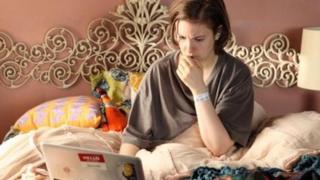 BSkyB has extended its exclusive deal with HBO, ensuring Sky Atlantic will be the only channel to show new HBO programmes like Girls in the UK.
The five-year deal, which runs to 2020, effectively prevents rival satellite operator BT from poaching HBO product.
With the extended output deal, new HBO programmes, including True Detective and Looking, will continue to premiere exclusively on Sky.
Game of Thrones and The Following are among Sky Atlantic's other US imports.
BSkyB has been engaged in a costly battle for Premier League rights with BT.
Last November Rupert Murdoch's company lost the rights to show Champions League and Europa League matches to BT Sport in what was deemed "a massive blow".
The new agreement between BSkyB and HBO will see the two companies jointly produce "major new cinematic drama series".
"By expanding our relationship with HBO, we are strengthening our commitment to bring customers the very best content from around the world," said Sky's Jeremy Darroch.
"Original production is the natural next step for our partnership with HBO," he continued.
"We are enormously excited at the prospect of working together to realise our shared vision for epic drama of a truly spectacular scale."
The deal makes BSkyB the exclusive partner for HBO and gives it rights to exclusively air programmes developed in the UK market.
HBO has previously co-produced popular dramas with other broadcasters, among them Parade's End which it made with the BBC.
BSkyB and Sky said they hoped to identify, commission and jointly fund projects with the potential to run for several series.
HBO's Richard Plepler said the company was "excited" about future co-productions.
"The deal with Sky was trailblazing in that it served as a model for similar arrangements we entered into around the world," he said.
"The team at Sky are true partners and the extension and expansion of our relationship feels like an obvious next step."