Alex Jennings takes on Willy Wonka role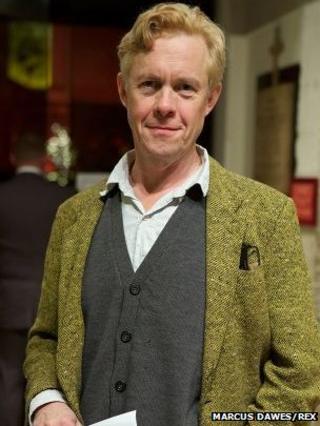 Alex Jennings will replace Douglas Hodge as Willy Wonka in West End show Charlie and the Chocolate Factory.
Hodge has played the role of Wonka, the enigmatic owner of a sweet factory, since the musical version of Roald Dahl's 1964 book opened in June 2013.
Jennings, who takes over the role in May, is no stranger to musicals having won an Olivier playing Professor Higgins in My Fair Lady in 2003.
Charlie and the Chocolate Factory is currently booking to May 2015.
Directed by Skyfall's Sam Mendes, it has proved a hit with West End audiences despite a mixed critical reception.
Jennings is the only performer to have won an Olivier award in the drama, musical and comedy categories.
He won best comedy performance for his role in Too Clever By Half in 1988, best actor for Peer Gynt in 1996 and best actor in a musical for his turn in Trevor Nunn's My Fair Lady.
The 56-year-old recently played playwright Alan Bennett in Untold Stories.
Jennings follows in the footsteps of Gene Wilder and Johnny Depp who have both played the eccentric confectioner in Hollywood versions of Dahl's book.
Writing in The Stage, theatre critic Mark Shenton praised Jennings' "supreme versatility" and suggested he was "simply the best man for the job in director Sam Mendes' eyes".
The musical, which is playing at the Theatre Royal Drury Lane, has been adapted for the stage by David Greig with songs by Marc Shaiman and Scott Wittman.
Last month its producers claimed that show had broken the West End's weekly box-office record for the second time.