China retains grip on foreign film quota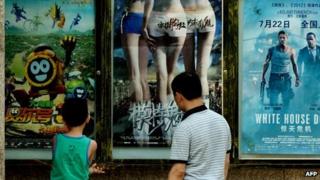 China's authorities are to retain a strict quota of 34 foreign films a year, contrary to reports they were planning to ease restrictions.
The government will stick to limits agreed in 2012, the Xinhua news agency reported.
The Hollywood Reporter had said that China was considering raising the allowance to 44 movies annually.
China's film market is the second largest after the US, making an estimated $3.6bn (£2.1bn) in 2013.
This was an increase of 27% on the previous year.
The country's film authorities maintain a tight control over the foreign films that are allowed to be screened. Hollywood, which provides the bulk of China's film imports, has campaigned for the quota to be lifted completely.
Other countries have also made overtures to be exempted from the annual allowance, while some films have worked around the quota by entering into co-productions with China.
China's strict management on cinematic imports is spurred by a fear that the domestic film industry will be compromised by an open market.
But in 2013, homegrown movies moved ahead of foreign films at the Chinese box office after losing out to foreign films, most of which originated in the US, in 2012.
The importance of China as a film market was evident at the beginning of this month during the country's Lunar New Year holiday, when a record $41m (£24.8m) was taken in cinema ticket sales in a single day.
The festival period draws huge crowds to cinemas across the country, with homegrown releases proving very popular, including a series of films based on local tale Journey to the West.
The latest outing, The Monkey King, was the global box office leader for the weekend at the start of February, making more than $50m (£30.2m).
At present, the US film industry is allowed to take 25% of the profits from their films at the Chinese box office, which was increased from 13% as part of the 2012 quota deal.