Sting musical The Last Ship finds Broadway home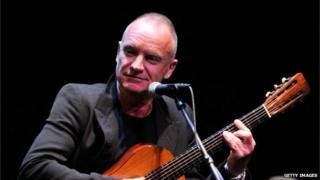 Sting's musical about shipbuilding in the North East of England has found a home on Broadway.
The Last Ship, which is inspired by the singer's own childhood, will open at the Neil Simon Theatre on 30 September.
The cast will include New York stage star Michael Esper and Irish singer and actress Rachel Tucker.
It will also star fellow North East star Jimmy Nail, who Sting has previously said "gave me the courage to carry on" with the project.
"He said 'this is very important, you have to do this, this story needs to be told,'" the musician told BBC News.
Sting has already released an album called The Last Ship, with music that will feature in the show.
The musical will be directed by Joe Mantello, who has won two Tony Awards, for musical Assassins and stage play Take Me Out.
Set in Sting's hometown of Wallsend in Tyne and Wear, the show centres on Gideon Fletcher, a man who opts out of a life of shipbuilding to travel the world.
Returning 14 years later, he discovers a town close to economic collapse but a community still resilient in the face of adversity.
Producer Jeffrey Seller said: "People ask if it's autobiographical. The only real answer is I think it's emotionally autobiographical but it's not autobiographical. There's no rock singer in The Last Ship.
"But I certainly think that Sting is inspired by his youth and he's working through a lot of emotions that all of us are working with as we get older."
The musical will run in preview at Chicago's Bank of America Theatre from 10 June to 13 July.