Martin Scorsese attends Powell and Pressburger plaque unveiling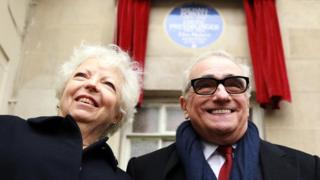 Director Martin Scorsese has hailed the "extraordinary" achievements of film-making duo Michael Powell and Emeric Pressburger at the unveiling of a blue plaque in their honour in London.
He was joined by Powell's widow Thelma Schoonmaker at the plaque's unveiling.
The plaque is placed outside the office where their production company, The Archers, was based from 1942 to 1947.
Schoonmaker, Scorsese's regular editor, said her late husband would have been "thrilled" by the accolade.
"When Michael first brought me to London, it gave him enormous pleasure to point out the English Heritage blue plaques as we drove through the city," the 74-year-old said on Monday.
"We thank English Heritage for honouring the place from which emerged what Martin Scorsese has called with envy 'the longest period of subversive filmmaking in a major studio ever'."
Pressburger's grandson, director Kevin Macdonald, said his grandfather "would have been delighted to see his name alongside his friend and collaborator Michael Powell's on such a lovely London street".
During their time at Dorset House in Gloucester Place, Marylebone, The Archers worked on such cinematic landmarks as The Life and Death of Colonel Blimp, Black Narcissus and The Red Shoes.
"I was about 10 years old when I first saw The Red Shoes," said Scorsese, who supervised a restoration of the ballet-based drama in 2009. "My father took me to see it in 1949.
"To realise that the riches came out of this building was extraordinary."
Scorsese and Schoonmaker attended the unveiling one day on from this year's Bafta film awards, where both had been nominated for their work on The Wolf of Wall Street.
The former was beaten in the best director category by Gravity's Alfonso Cuaron, while Schoonmaker lost the best editing prize to Rush duo Dan Hanley and Mike Hill.