A Taste of Honey: Q&A with Lesley Sharp and Kate O'Flynn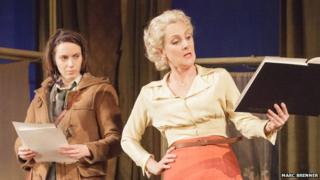 A Taste of Honey, written by Shelagh Delaney when she was 19, became an instant hit after it was first staged in London in 1958.
It transferred to the West End and Broadway and spawned a 1961 film with Rita Tushingham and Dora Bryan.
Delaney, who died in 2011 at the age of 71, is considered to be the country's first working-class female playwright.
Her taboo-breaking work, set largely in a shabby Salford flat, tells of a single mother, a black sailor, a pregnant schoolgirl and a gay art student.
Lesley Sharp and Kate O'Flynn star as mother Helen and daughter Jo in Bijan Sheibani's revival of the play, which opened this week in the National's Lyttelton Theatre.
You've never seen the film version. Is that helpful when you're approaching a well-known role?
Lesley Sharp: Some people might want to use that as part of their research, but it wasn't something I felt I wanted to so. What's brilliant is having the opportunity to come to a piece of work with no preconceptions.
So what did you draw on for the role?
LS: We had a lot of conversations about what Britain in the north was like post-war - it was still pretty rundown. We also talked about how people had to live pretty much hand to mouth if they went from job to job.
There were no cushions from the state, so it meant that if you were running out of money it was desperate. That's maybe something that we're not quite as familiar with in 2014.
Helen makes decisions about the way that she lives and who she lives with on the basis that it's about survival.
What feeling do you get about the personality of Shelagh Delaney from her words in the play?
Kate O'Flynn: Her fearlessness, and this vivacious wit.
And you also met her daughter, Charlotte?
KO: We saw her just the once. She's a real life force as well. It gave us insider info on her relationship with her mum. She said she recognised the relationship in the play.
LS: Charlotte was in the audience tonight. She whistled for us so we knew she was there. I don't think she'd have whistled if she hadn't been happy.
Is it right that you had a session with a psychiatrist during rehearsals to delve into the characters?
KO: I've never been in a rehearsal room where that's happened before.
LS: What actors are involved in is a similar sort of psychological forensic examination of the characters they're playing.
You try to have an idea about why somebody does what they do and you try not to be in judgmental about it. That is what psychologists and psychotherapists aim to do with their patients.
He talked to us about what he felt were the motivations that made the characters behave in the way that they did.
We had a very fruitful conversation. What was really reassuring was that a lot of the things said to us had already occurred to us.
At the Bafta Film Awards on Sunday, Dame Helen Mirren voiced concerns that only those with wealthy parents will be able to go into acting. What's your view?
KO: I think things might have changed even from when I was at drama school. [O'Flynn graduated from Rada in 2006.] There were people from all different backgrounds. It was a real good mix.
It's so expensive to go now. Rada will find funds for actors they think are really talented, but I do think it has got a lot trickier.
LS: I think culture and art tell you what the soul of a nation is, and if we continue to chip away at the arts we are actually chipping away at our collective soul.
And whether or not you're interested in opera or classical music or folk music or the theatre, I think that for a nation's health and well-being it's very important that the arts scene is supported.
A Taste of Honey runs at the National Theatre until 11 May.