The Hobbit on a quest for Empire Awards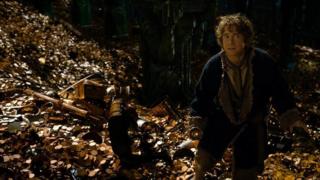 The Empire Awards are known for being more fan-focused than the Baftas and the Oscars, and the 2014 nominees make no exception.
The Hobbit: The Desolation of Smaug dominates proceedings, with seven nominations, beating Oscar favourite 12 Years A Slave, which has six.
Peter Jackson's series has been ignored outside the technical categories by the bigger awards shows.
But the first instalment won best fantasy at last year's Empire awards.
It also gained a best actor prize for its British star Martin Freeman, who plays Bilbo Baggins.
The film is in the running for both prizes again, alongside best film, and a slew of supporting actor prizes.
Inspiration
The Empire awards are chosen by readers of the monthly film magazine, allowing big budget blockbusters to rub shoulders with more serious awards fare.
This year, that means Steve Coogan receives a nomination for his Alan Partridge film, rather than the more Oscar-friendly Philomena.
And real-life piracy thriller Captain Phillips has an equal number of nominations to action movie The Hunger Games: Catching Fire.
Both films are in the running for five awards, while Captain Phillips director Paul Greengrass will also pick up an inspiration prize.
The award is in recognition of his work on films like The Bourne Supremacy, Bloody Sunday and United 93; and the kinetic, roving camera style he has helped popularise.
This year's shortlist sees the introduction of best supporting actor and actress categories, with 12 Years A Slave stars Michael Fassbender and Lupita Nyong'o among those in the running, along with The Hobbit's Richard Armitage and Evangeline Lilly.
Jennifer Lawrence, meanwhile, gets a nomination for her scene-stealing turn in American Hustle, alongside a best actress nomination for The Hunger Games.
Sci-fi thriller Gravity received four nominations, including best film, best director and best actress, for Sandra Bullock.
The awards will be presented at a star-studded ceremony in London on Sunday, 30 March. The public can vote for the shortlisted nominees at the Empire website.
Last year's big winner was Bond movie Skyfall, which received best film and best director for Sam Mendes, while Dame Helen Mirren was handed the Empire Legend award.
Accepting her trophy, the star said: "You sort of think, 'Really? Do I have to be a legend already? Can't they wait 20 odd years and then make me a legend?
"But that's alright, I'll take it."
Full list of nominees
Best film
12 Years A Slave
Captain Phillips
Gravity
The Hobbit: The Desolation Of Smaug
The Hunger Games: Catching Fire
Best actor
Chiwetel Ejiofor (12 Years A Slave)
James McAvoy (Filth)
Leonardo DiCaprio (The Wolf Of Wall Street)
Martin Freeman (The Hobbit: The Desolation Of Smaug)
Tom Hanks (Captain Phillips)
Best actress
Amy Adams (American Hustle)
Cate Blanchett (Blue Jasmine)
Emma Thompson (Saving Mr Banks)
Jennifer Lawrence (The Hunger Games: Catching Fire)
Sandra Bullock (Gravity)
Best supporting actor
Daniel Bruhl (Rush)
Michael Fassbender (12 Years A Slave)
Sam Claflin (The Hunger Games: Catching Fire)
Richard Armitage (The Hobbit: The Desolation Of Smaug)
Tom Hiddleston (Thor: The Dark World)
Best supporting actress
Evangeline Lilly (The Hobbit: The Desolation Of Smaug)
Jennifer Lawrence (American Hustle)
Lupita Nyong'o (12 Years A Slave)
Mia Wasikowska (Stoker)
Sally Hawkins (Blue Jasmine)
Best director
Alfonso Cuaron (Gravity)
Edgar Wright (The World's End)
Paul Greengrass (Captain Phillips)
Peter Jackson (The Hobbit: The Desolation Of Smaug)
Steve McQueen (12 Years A Slave)
Best British film
Alan Partridge: Alpha Papa
Filth
Rush
Sunshine On Leith
The World's End
Best horror
A Field In England
The Conjuring
Evil Dead
World War Z
You're Next
Best comedy
Alan Partridge: Alpha Papa
Anchorman 2: The Legend Continues
This Is 40
This Is The End
The World's End
Best thriller
Captain Phillips
The Hunger Games: Catching Fire
Now You See Me
Prisoners
Trance
Best sci-fi / fantasy
Gravity
The Hobbit: The Desolation Of Smaug
The Hunger Games: Catching Fire
Pacific Rim
Star Trek Into Darkness
Best male newcomer
Aidan Turner (The Hobbit: The Desolation Of Smaug)
Barkhad Abdi (Captain Phillips)
George MacKay (Sunshine On Leith)
Oscar Isaac (Inside Llewyn Davis)
Tye Sheridan (Mud)
Will Poulter (We're The Millers)
Best female newcomer
Adele Exarchopoulos (Blue Is The Warmest Colour)
Antonia Thomas (Sunshine On Leith)
Elizabeth Debicki (The Great Gatsby)
Freya Mavor (Sunshine On Leith)
Lupita Nyong'o (12 Years A Slave)
Margot Robbie (The Wolf of Wall Street)