Goldfrapp tell tales in cinema project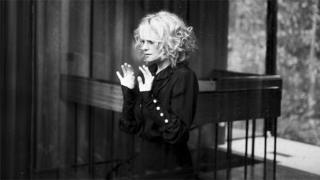 Pop group Goldfrapp are breaking into cinemas with a one-off screening of their short film anthology Tales of Us, followed by a live concert. Singer Alison Goldfrapp tells the BBC the project is "exciting" but "quite mad".
Ten years ago, the music video was practically dead.
Abandoned by MTV and creatively stagnant, budgets were aggressively slashed in line with record company profits.
But the format was unexpectedly given a shot in the arm by the advent of YouTube.
Suddenly, clips were being shared and watched by millions of fans. At the time of writing, Psy's Gangnam Style has been seen nearly two billion times - generating hundreds of thousands of dollars in advertising revenue.
Meanwhile, in 2007, the British Film Institute started screening artistic and experimental videos in a monthly showcase called Bug, giving the medium a hitherto unimagined veneer of respectability.
The BFI was also the location, two weeks ago, for the premiere of pop group Goldfrapp's first film endeavour, Tales Of Us.
A series of five short films, the portmanteau project tells the stories of five individuals, with interconnecting themes of identity, metamorphosis, love and loss.
Although they are based around songs from the band's recent album, singer Alison Goldfrapp says the collection bears little resemblance to the traditional music video.
"I've always found promos dissatisfying, really," she says.
"The process has always been that we finished the album and then the record company would say, 'this would be a good single, so make a video for it.'"
"Then a director will send in a treatment, you might talk a few times and that's it."
She cringes as she recalls the video for the barnstorming pop single Strict Machine. Not for the kaleidoscopic, psychedelic animation, but because someone had dyed her Marlene Dietrich curls two entirely separate colours.
"I can't stand looking at myself in it," she laughs. "How did I get a hairdo like that? I mean, Jesus Christ."
Melancholy
Tales Of Us is another story entirely. Largely filmed in bleached black and white, the clips are bewitching and intimate - impressionist sketches of the characters who appear in the songs.
The most arresting, Annabel, is based on Kathleen Winter's novel of the same name, which follows the struggles of a young hermaphrodite raised in a remote part of Canada.
Lyrically, the song is ambiguous ("All the secrets there inside you, Annabel") but the video is heartbreaking.
It follows an androgynous young boy as he wages a quiet war on his sexuality, decorating a secret den with pictures of David Bowie and dressing up in stolen jewellery.
"We auditioned a lot of boys," says Goldfrapp. "Interestingly, about half of them dropped out when we told them they were going to have to wear a dress.
"But it's quite interesting at that age, their mannerisms… There was another boy who was wonderful but he was quite fidgety and hyper. A real boy. Then Daniel came in and he had this stillness to him, and his movements were much slower and he had this sort of languidness.
"And those eyes? When he looked, he had a melancholy. It was instant when we saw him."
Not all of the films relate so directly to the song's subject matter, however.
"Laurel is quite interesting because the song is about an actress who dates a psycho killer in post-war Hollywood," says Goldfrapp.
"But the film is about this girl we met who was a dancer in a strip club, who also happens to be a palaeontologist. She was someone we met, then filmed her in LA.
"They're very different narratives, but they work really well together."
Over the course of their career, Goldfrapp have never been content to sit still, progressing from cinematic trip-hop on their debut album Felt Mountain, to the million-selling, pounding glam-pop of 2005's Supernature.
Their fourth record, Seventh Tree, was a pastoral, acoustic collection, inspired by a tumultuous break-up, while 2010's Head First was a sugar rush of pure pop.
It was their last album under contract to EMI and, the band have since admitted, was completed in a rush under pressure from the label.
"They had a schedule and we were blackmailed into sticking to it," Goldfrapp's musical foil Will Gregory told The Independent last year. "We needed another six months on Head First, really."
'Hard times'
"That time was very odd," concedes Goldfrapp. "There were a lot of things going on business-wise with EMI and management, and then my mother died.
"They were hard times financially, and it was all very strange. That added to the whole feeling around that album."
By contrast, she says, recording Tales Of Us has been her "most satisfactory and rewarding experience yet".
It helped that the videos were made by her partner, Lisa Gunning, a film editor who Goldfrapp met in 2009, when they both worked on Sam Taylor-Wood's John Lennon biopic Nowhere Boy.
"She was hearing the music as we were making the album - so she was able to get into that headspace, and she really understood the aesthetic," says the singer.
"Plus, Lisa's such a brilliant storyteller. Being an editor, she really understands how a story is put together, and how it works."
Gunning's skills were sorely tested, though, by a complete lack of funds.
"We had hardly any budget for one film, never mind five," laughs Goldfrapp.
"It's a miracle we managed to make five. All of that was down to Lisa and her ingenuity. She was able to pull favours from people and borrow equipment.
"We were feeding the crew round here in the living room. Our dear friend Cara made giant chilli con carnes on the stove!"
At least one of the films was shot "on those little sports cameras you can buy in Dixons" - while Gunning negotiated a day-long shoot in a stately home for "a bit of money towards their electricity".
This squeeze on budgets is perhaps the biggest change in modern music videos.
In 1994, Michael Jackson set a world record that still stands, spending $7m ($11m / £6.6m in 2014) on the video for Scream.
Now, the average video budget is $16,000 (£10,000). Even Beyonce's ambitiously lavish "video album" contains several clips shot with one camera in a single location.
For Goldfrapp, the "shoestring" budgets were freeing.
"For this album, we made visuals because we wanted to do something with a particular song, and then it built up its own momentum," she says.
"It was nothing to do with what the single would be, and whether it would be commercially viable and all that kind of thing.
"It was quite remarkable, really."
And from humble beginnings, The Tales Of Us Anthology is about to go global. On 4 March, it will be screened in 300 cinemas around the world, followed by a live Goldfrapp show broadcast from London's famous Air Studios.
The band's website describes the concert as a "dramatic theatrical performance". Goldfrapp calls it "quite mad".
"It's a bit hair of the teeth," she says, "quite nerve wracking".
"We've never done anything like this before - so it'll be dramatic whatever happens!"
Tales of Us will be screened across the UK, Europe, North America, Australia and New Zealand on 4 March. Goldfrapp then embark on a UK tour, launching at Birmingham Symphony Hall on 26 March.