Mishal Husain goes head to head with Jarvis Cocker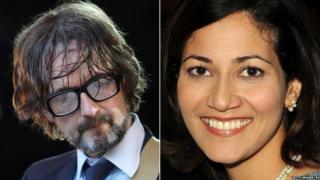 Today host Mishal Husain will do battle with singer Jarvis Cocker at this year's Broadcasting Press Guild Awards.
The broadcasters are shortlisted in the Radio Presenter of the Year category, alongside Nick Ferrari, of LBC 97.3 and BBC Radio 6 Music's Cerys Matthews.
Husain joined BBC Radio 4's flagship news programme Today in October. Cocker is nominated for his work on BBC Radio 6 Music and Radio 4.
Radio 4 also took all the nominations for the Radio Programme of the Year.
The station was shortlisted for four shows: The Long View, Tweet of the Day, Woman's Hour and The Russian Gambler.
The latter - a two-part drama based on Dostoevsky's The Gambler - tells the story of a penniless pianist who becomes a tutor to the daughter of a wealthy Russian oligarch living in London.
"With radio listening at an all-time high I'm delighted that Radio 4's distinctive mix of programming and the extraordinary talent that we attract is being recognised in these awards," said the station's controller Gwyneth Williams.
"The credit should go to our production teams for their inspired and professional programmes."
The Broadcasting Press Guild awards, now in their 40th year, are voted for by Broadcasting Press Guild members - journalists who write about TV and radio, with the radio awards being selected by a panel with a specialist interest in the medium.
Television nominations were announced last week with crime drama Broadchurch, Top of the Lake and The Fall dominating the shortlist.
The winners will be announced at a ceremony in London on 28 March when the Harvey Lee Award for outstanding contribution to broadcasting will also be announced. John Humphrys was last year's winner.
Among the well-known names who have previously won Radio Broadcaster of the Year award are Terry Wogan, Sandy Toksvig, Jonathan Ross and Sue Lawley.