Tim Rice: Public have no appetite for new musicals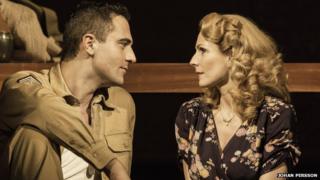 Theatre lyricist Sir Tim Rice says the public is no longer interested in musicals based around new material.
Sir Tim, whose latest project From Here to Eternity will close on 29 March after a six-month run, told The Times: "They just want old songs repackaged".
Andrew Lloyd Webber announced earlier this week that his new show, Stephen Ward, would also close on 29 March.
Sir Tim's comments echo those he made during a musical theatre special on BBC Radio 3's Music Matters last December.
He told presenter Tom Service that From Here to Eternity had in some respects been "rather a ghastly experience because we haven't had the numbers of audience that we'd hoped for".
"I'm wondering if there's any market out there for musicals that aren't revivals, or jukebox musicals, or based on a recent hit film or something. It's difficult," he said.
"There is of course the horrific possibility that our show might not be very good, but I've long since eliminated that as a possibility," Sir Tim added, laughing.
Theatre critic Mark Shenton said he thought it was impossible to generalise when it came to musicals.
"I always loved the fact that Mamma Mia! advertises itself with the slogan 'You already know you're going to love it,'" Shenton told the BBC.
"But I think it all depends on the show, actually. The Book of Mormon has an entirely original score and is the biggest hit in town."
Shenton said it did feel like "the end of an era" for composer Lord Lloyd Webber and Sir Tim, the "two giants of musical theatre".
Together they wrote box office hits Jesus Christ Superstar, Evita and Joseph and the Amazing Technicolor Dreamcoat - which is about to be turned into an animated film - but ticket sales for both of their latest productions could not compare.
Stephen Ward, based on the Profumo sex and spies scandal, opened to mixed reviews just before Christmas, while From Here to Eternity premiered in October.
This Saturday night sees the first performances of Harry Hill's new X Factor-inspired musical I Can't Sing at the London Palladium, although preview shows were delayed for 48 hours earlier this week.
Shenton said he thought producers needed to take "more risks" when conceiving West End shows.
"Just revising the same old formulas is obviously not working. What's really interesting about [I Can't Sing and Book of Mormon] is they are comedy musicals," he said.
"Maybe people want a lighter touch at the moment. More solid entertainment, rather than something rather earnest."