Godzilla: first footage screened at London cinema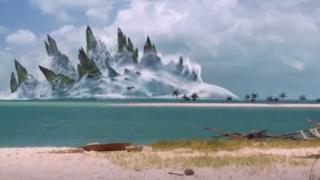 British director Gareth Edwards has given a sneak preview of footage from his forthcoming blockbuster Godzilla.
At a screening in London, Edwards described the three years he has spent on the film as "the hardest, most intense, most exhausting".
In 2011, the visual effects specialist won best director at the British Independent Film Awards for his debut feature film Monsters.
The film, edited in his London home, cost around £500,000 ($800,000).
In May, the 38-year-old will unveil the full version of Hollywood's latest take on the sci-fi classic Godzilla, filmed in Canada and Hawaii, on a supersize budget of $150m (£89m).
But he said there was a "simple answer" to tackling such a leap in budget.
"Imagine you wrote a list of all the pros and cons of making a low-budget movie, then when you make a high budget movie - just swap them over.
"Everything that is easy to do when there is just three of you, is really hard when there are 400 of you - and everything that is really hard to do when you have a budget of £10 is really easy when you have millions."
"The real difficulty," he continued. "Which is the hardest thing about making movies, full stop - is to try and tell a gripping story that you really care about. Whether you have 10p or £200m, it is just as hard - so that's what we focused on."
The film stars Kick-Ass actor Aaron Taylor-Johnson, Ken Watanabe, Juliette Binoche and Breaking Bad's Bryan Cranston.
"As you are working on the screenplay, you can't help but picture the actors you would like to have in the roles," Edwards told reporters.
"You shouldn't do it, because you usually can't get them - but we had this little wish-list, and we sent out the screenplay and crossed our fingers - and every single one of them went for it. Thank God, or rather, Godzilla.
Despite their movie star credentials, Edwards diplomatically insisted none of his A-list cast acted like primadonnas.
"We did actually check them out beforehand - I was like 'life is too short, can we find out if any of these people are a nightmare?' - but they were all fantastic.
"Thank God I hadn't seen a billion episodes of Breaking Bad like everyone else, otherwise I would have been too intimidated to walk to work with Bryan. I had seen him in a few, but the real reason I wanted Bryan was because of Malcolm in the Middle - and an episode of Airwolf from 1986."
Edwards' new take on the Japanese monster tale is the first big budget version since the critically panned 1998 version, directed by Roland Emmerich.
The filmmaker said that heaped even more pressure on him.
"It's amazing how many people out there are closet Godzilla fans. I thought there were probably about 100 Godzilla fans, including me but every single day during shooting - in a quiet moment - people would lean over and say: 'I love Godzilla, don't cock it up!'. I've had that conversation on loop for the past year."
"Everybody involved was so keen not to squander this chance."
'Godzooky'
Referring to the incarnation of Godzilla in cartoon form, Edwards joked: "It's a standard go-to joke among my friends that I am working on Godzooky."
Instead he has cited the 1954 original as his key inspiration.
"I realised how good that movie was. How it was a metaphor for Nagasaki and Hiroshima, and how it's actually a very serious take on a monster movie."
"It took us a good year to land on a story that felt right to everybody. And what is very much at the heart of our movie - as with the original - is man versus nature. And that if you mess with nature, you're going to lose."
Edwards said he believed "all good science-fiction is either metaphorical or an analogy for something else".
"You are looking for the bigger truth," he explained. "As the human race, we do abuse our position a lot and never really face the consequences - but now and again we do.
"There is never going to be a giant monster coming out of the ocean and smashing up a city but the physical consequences of stuff you see in this film does happen: we do have tsunamis, we have had meltdowns at nuclear power plants...."
The film follows one family searching for answers in the aftermath of a private tragedy. And then the monster - and all hell - breaks lose.
Edwards said he was "very lucky" to land the Godzilla gig, but admitted to often feeling outclassed by his colleagues who include cameramen and producers who have worked with the likes of Terrence Malick, Steven Spielberg and Akira Kurosawa.
"I was thinking I don't belong here - these are legends of cinema, what am I doing? I'm from Nuneaton!"
Godzilla opens in the UK on 16 May.