Oscars: backstage with the Brits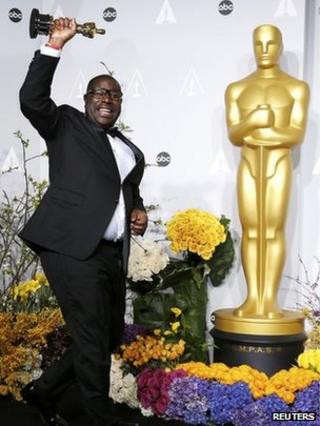 The Oscars proved to be an impressive night for Brits behind the camera.
The three-and-a-half hour ceremony (yes, even longer than The Wolf of Wall Street) saw a steady stream of British technical and creative talent summoned to the stage at the Dolby Theatre in Hollywood.
As a show, it delivered few surprises and no shocks at all. Indeed, Hollywood pundits had predicted almost every result beforehand.
In the acting categories, the predicted winners - Cate Blanchett, Matthew McConaughey and Jared Leto - all romped home to victory as expected.
The first victory for the Brits came less than an hour into the show, when the award for visual effects went to Gravity and the team from Framestore in London.
A couple of hours later, Steve McQueen's 12 Years a Slave was named best picture.
Backstage in the winners' room, the news got the biggest cheers of the night.
McQueen, a former Turner Prize winner, made Oscar history as the first black director to win best picture.
On stage he was emotional, to the point that he could hardly read out his list of thanks.
And then he started bouncing in delight.
By the time he met the press a few minutes later he had calmed down.
"I'm as cool as a cucumber right now," McQueen reassured the assembled journalists. "You saw the jump, of course. I mean everyone's talking about the jump, but... I was just so ecstatic, so happy for us all.
"It's one of those moments in life where it might not ever happen again," he said.
"It's not a dream, it's a reality. So emotions, physicality just takes over."
To laughter, McQueen then slipped in a reference to Jump by '80s rockers Van Halen.
Much of the British success on Oscar night was down to the teams behind Alfonso Cuaron's stranded-in-space thriller Gravity.
Chris Munro, one of the victorious sound mixing team, admitted - with a fitting metaphor - that they were "over the moon".
Gravity also scooped Oscars for its score, cinematography, editing, sound editing and Cuaron's direction.
Later the Mexican filmmaker told the BBC what he thought those victories say about the British film industry.
"The amazing know-how, quality and sophistication of the British film industry made this film happen," he said.
He pointed out that he had made three films in the UK - more than in any other country in which he has worked.
He added: "British film culture is in as good shape as the American industry right now. And it has - like Mexico - more venues, more support and more incentives."
Amanda Nevill, CEO of the British Film Institute (BFI), concurred with Cuaron. "The UK has much to celebrate at this year's Oscars," she said in a statement.
"We join the whole British film industry in congratulating Steve McQueen on the awards for his remarkable and important film, 12 Years a Slave, and Alfonso Cuaron whose astonishing film, Gravity, was made right here in the UK.
"Our industry continues to punch above its weight. The success of our film-making talent working both in front of and behind the camera is an international validation of how creatively and technically British film-making is at the top of its game."
One of Cuaron's talented Brits was Steven Price, whose pulsing, terrifying score accompanied Sandra Bullock's nightmarish fight for survival in space.
During his acceptance speech, Price apologised to his parents for making so much noise when he was growing up.
Speaking to the BBC backstage, Nottingham-born Price recalled how his mother claimed he had learned to speak listening to records.
"My house was basically full of music. My main memories of growing up are the record player in the living room.
"It was all the Beatles and Stones and that sort of stuff, and we used to dance around. That started me up on playing lots of instruments and I've done nothing else ever since."
Other British winners included the makers of best documentary short The Lady in Number 6, director Malcolm Clarke and producer Nicholas Reed.
The subject of the documentary, Alice Herz-Sommer - the oldest known survivor of the Nazi Holocaust and an accomplished pianist - died in London at the age of 110 last week, exactly one week before the Oscars.
Clarke admitted backstage: "It's been a very rough and strange surreal week for Nicholas and I, because we've been celebrating being nominated and also mourning our leading lady."
So will the British achievements this year spur on the next generation of British film-makers to success at future Oscars?
Two weeks ago, at the Baftas in London, Steve McQueen recalled making his way to school past Ealing Film Studios in London.
At the Oscars, I asked him what advice he would give to kids going to school on Monday morning who wanted to follow in his footsteps.
"I would say, yeah, go ahead. Make it a reality," responded McQueen.
"It's just one of those things where dreams do come true in that way. It's not a fantasy, it can actually be a reality. So just go and do it. I will say that."
After that, McQueen went off with, understandably, something of a bounce in his step.