Oscars 2014: Academy Awards ceremony gets biggest TV audience in 10 years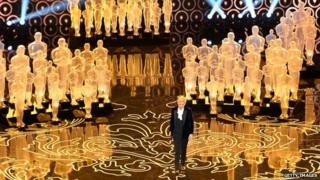 Sunday's Oscars ceremony, hosted by Ellen DeGeneres, was watched by 43 million TV viewers in the US.
According to broadcaster ABC, it was the biggest audience for the Academy Awards in a decade.
The audience was 6.4% bigger than last year when the event was fronted by Seth McFarlane, according to ratings figures from Nielsen.
The most recent biggest TV audience was 43.6m in 2004, when The Lord of the Rings: Return of the King cleaned up.
The most watched Oscars ceremony on television came in 1998, when the triumph of Titanic with 11 Academy awards was seen by 55.3 million viewers.
Last year's choice of irreverent host McFarlane drew criticism from some quarters. DeGeneres - hosting the event for the second time - was seen as a safer pair of hands.
The comedian and TV host received mixed reviews for this year's ceremony, but her tenure was seen as a step away from recent attempts to draw in younger audiences.
Despite this, data from ratings trackers Nielsen suggested that there was an increase of 1% in the 18 to 34-year-old audience bracket.
Regardless of the critics' views, Degeneres' staged a "selfie" photograph with several of the stars in the audience which was a hit on social media, setting the record for the most retweets on Twitter - more than two million.
The comic declared she wanted to break the record for the most retweeted photograph in history, featuring herself surrounded by the front row talent - and best supporting actress winner Lupita Nyong'o's brother.
She broke the record within the hour, and in doing so, broke Twitter's servers too.
Twitter said that 14.7 million Oscar-related tweets were sent worldwide during the telecast.