Former Friends star Matthew Perry to make UK TV debut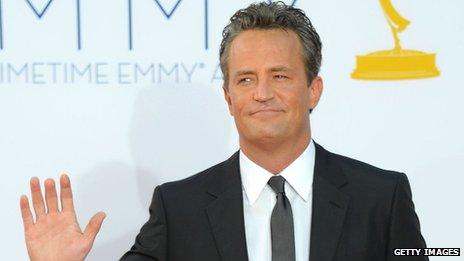 Former Friends actor Matthew Perry is to make his British TV debut in a one-off Sky Arts comedy to be shown in May.
Perry will play "a charismatic man" who enchants onlookers by throwing his dog in the air in The Dog Thrower, part of Sky Arts' Playhouse Presents... strand.
The strand will include eight standalone comedy and drama programmes.
Cara Delevingne, Jo Brand, Simon Callow, Lindsay Duncan, Ben Whishaw and Sylvia Sims are among the actors who have been cast in the other programmes.
Matthew Perry is best known for playing Chandler in the hit sitcom Friends. Since Friends finished in 2004, he has starred in US series including Studio 60 on the Sunset Strip, Mr Sunshine and Go On.
He is now also working on an updated version of The Odd Couple, which was a sitcom in the 1970s as well as being a Broadway play and a film.
The full line-up for Sky Arts Playhouse Presents is:
The Dog Thrower - Matthew Perry and Tim Key star in this comedy, written by author and journalist Jon Ronson, who also makes his directorial debut.
Nosferatu In Love - Mark Strong plays a tormented movie actor who runs away from a film set. Written by Peter Straughan, who was nominated for an Oscar for Tinker Tailor Soldier Spy.
The Cruise - Jane Horrocks plays a mobile hairdresser who is about to fulfil her dream of going on a cruise.
Nightshift - Daniel Mays, Ashley Walters and Scarlett Alice Johnson appear in this story of two police officers cruising south-east London.
Foxtrot - The first TV project by acclaimed playwright Polly Stenham. She has written and directed the tale of a failed gang heist, starring Billie Piper and Ben Whishaw.
Space Age - Jointly written by actors Ralf Little and Nick Moran, and starring Richard Wilson and Simon Callow as two ageing astronauts.
Damned - The story of a put-upon social worker, starring and co-written by comedian Jo Brand.
Timeless - Model Cara Delevingne makes her TV debut as a young woman looking after her great-grandmother, played by Sylvia Syms. Penned by Tim Firth, who wrote the film Calendar Girls.
The programmes will be screened between 1 May and 19 June. Sky Arts director James Hunt described it as a "phenomenal" line-up.
Related Internet Links
The BBC is not responsible for the content of external sites.