Profile: arts journalist and broadcaster Mark Lawson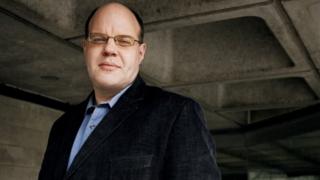 By his own reckoning, Mark Lawson has interviewed more than 3,000 people but, inevitably, it's the ones that got away - or walked out, to be more precise - that stick firmest in the memory.
Hollywood star Russell Crowe famously took umbrage at Lawson's suggestion that his accent in Robin Hood had "hints" of Irish about it.
In the words of the Daily Mail, "there was a simmering denial, an expletive or two and a rather sudden end to the conversation".
Lawson himself, however, didn't see the interview as a failure, explaining: "People got a sense that his accent in Robin Hood was dodgy and that he was sensitive about the fact."
'Brainiest potato'
Mark Lawson has been an influential force in the world of arts broadcasting and journalism since the 1980s.
He saw his own vocation coming a mile off, once telling an interviewer that "from the age of about eight" he was reading several newspapers a day.
"I had this sense of how different newspapers work and, actually, the stories would be completely different. I always wanted to be a journalist for that reason," he said.
He read English Literature at University College, London, and after graduating, became a freelance writer for various publications, including the Times.
Broadcasting soon beckoned, and he presented The Late Show on BBC2 from 1993 to 1995, and The Late Review - latterly Newsnight Review - from 1994 to 2005.
Impressions show Dead Ringers, poking fun at those Newsnight appearances, referred to him as "Britain's brainiest potato" due to his receding hairline.
Since 1998, Lawson has presented BBC Radio 4's arts magazine show Front Row and appeared as a regular contributor on BBC2's The Culture Show.
He has also been a Guardian newspaper columnist since 1995.
Lawson, now 51, has twice been voted TV critic of the Year and has won numerous awards for arts journalism.
Praise for his work has not been universal though. His former colleague Richard Gott said "the prevalence of the bland and the obsequious" at the Guardian newspaper was "characterised by the embedded presence of Mark Lawson".
'Yes, well'
Since 2006, Lawson has presented BBC Four's hour-long interview programme Mark Lawson Talks To..., focussing on actors, artists and writers. Recent guests have included David Bailey, John Le Carre and Steve Coogan.
He even interviewed himself, explaining (to himself) why he would often begin a question with "I've noticed" or "Yes, well" as a way of gaining time.
"Yes, well, you're always very aware - even during a recorded interview - that saying the wrong thing can haunt you forever."
Breaking the mould of many a critic, Lawson has also written plays and programmes himself.
The former include St Graham and St Evelyn, which focused on the friendship between novelists Graham Greene and Evelyn Waugh, and was broadcast on Radio 4 in 2003.
He also wrote episodes of BBC radio-turned-television series Absolute Power, set in the offices of Prentiss McCabe, a fictional public relations company, and starring Stephen Fry and John Bird.
In an interview following the death of his father, Lawson remarked on the "transgenerational" power of television and how so many of his memories of his father were tied to particular programmes, most notably University Challenge.
Lawson has also written a number of fiction and non-fiction books. They include his 1995 work Idlewild, which imagines a world in which both John F Kennedy and Marilyn Monroe survived the 1960s, and Going Out Live, published in 2001, which looks at modern celebrity culture.
In Debretts, his pastimes are listed as television, watching football and cricket, red wine and reading.
Among the many people Lawson has said he would still like to interview are Sir Elton John, Pope Francis and author Zadie Smith.