Mr Selfridge returning to ITV for third series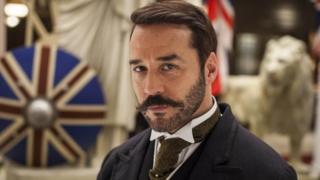 ITV costume drama Mr Selfridge is returning for a third series, the broadcaster has announced.
The show, which is inspired by the retail entrepreneur and stars US actor Jeremy Piven in the title role, will begin filming next month.
Selfridge's colourful life will "really begin to unravel" with the advent of a third series, producers have said.
The second series, which is currently on air, has attracted an average 6.4 million viewers.
BBC One's 1950s drama Call The Midwife, also screened on Sunday evenings but an hour before Mr Selfridge, has clocked up audiences in excess of 10 million.
ITV executive producer Kate Lewis said: "We have some surprises in store for an audience in this third series.
"You only have to walk down Oxford Street today to know that Selfridges department store continued to be successful, but for its founder, Harry Selfridge, things were very different.
"His story was a rollercoaster ride that ended rather tragically. We pick up series three in 1919, the point at which his life really begins to unravel," she added.
Kate Brooke is returning to write the 10 episodes of the new series, which also stars former Coronation Street actress Katherine Kelly as socialite Lady Mae.