Veronica Mars brought back to life by will of fans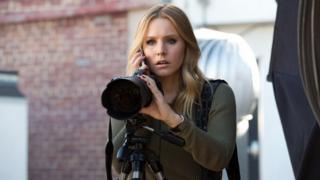 It was the first "fan-financed" film using crowdfunding website Kickstarter, and last weekend the movie spin-off of the TV series Veronica Mars had its world premiere at the SXSW festival in Austin, Texas.
Its writer and director Rob Thomas, as well as actress Kristen Bell - who plays former teen detective Veronica - showed the movie to about 1,200 fans at the festival, before attending a private screening in the city for hundreds of the film's financial backers.
Describing the occasion as "very emotional", Thomas said: "A few years ago I couldn't have imagined this day, because when the show got cancelled, I thought we were finished."
Originally running from 2004-2007, the show attracted fewer than three million viewers a week in the US but gained a cult following.
Bell, 33, who went on to star in films such as Forgetting Sarah Marshall, played the quick-witted, sharp-tongued teenager, who was investigating the murder of her best friend. Bell points out that "although we were never a popular TV series, the fans we had were completely devoted.
"I also think we were one of the few shows that got more viewers after it was cancelled and people started watching online. And now, after the Kickstarter campaign, I don't think anyone could question the devotion of Veronica Mars fans," she said.
"It's one thing to pick up the tab at dinner, it's quite another to donate $6m (£3.5m) to make a film. We feel the weight of that responsibility."
The movie sees Veronica - now a young lawyer - return to her home town of Neptune, California, after her on-off boyfriend Logan (played by Jason Dohring) is accused of murder.
It was filmed in 24 days last summer, three months after Bell gave birth to her first child, and reunited the entire cast. Thomas said the movie was years in the making after he repeatedly lobbied the show's parent studio, Warner Bros, to fund a movie.
"It was only when I discovered websites like Kickstarter I began to realise what we might achieve through crowdfunding. We surpassed my wildest dreams."
Bell and Thomas, who put the pitch together, got the $2m (£1.1m) they had asked for within a few hours. After a month, some 91,000 fans had donated $5.7m (£3.4m) thanks to incentives such as T-shirts, DVDs, posters and phone calls from Bell.
"What the fans have done says a lot about what Veronica Mars meant to them," the actress said. "We had a lot of people in their 20s and 30s saying to us, 'Veronica got me through high school, I want to donate to you'."
Thomas admitted being "entirely out of my comfort zone" in deciding how his backers, some of whom had donated up to $10,000 (£6,000), should be rewarded.
"It's like the Blair Witch Project of crowdfunding, it's a first," he said. "I wanted to credit around 40 people as associate producers on the film, but then I ran into trouble with the Producers Guild of America.
"We also had hundreds of backers as extras on the film, but I came up against red tape about hiring a certain number of 'real' extras first. I think I learned more about union rules than anything.
"I know we can't please all people all of the time, but this is definitely a movie for fans. Every bit of their money is going to be there on the screen for them."
He added: "$6m (£3.5m) isn't that much money to make a film with. There are probably many clever ways to make a movie with that kind of budget - and we did none of them.
"We have around 60 speaking roles in the film because we wanted everyone back from the TV series, and a car chase and an explosion. That meant we could only afford three takes for every scene."
Bell said a movie funded by fans will inevitably be shaped by them.
"It had to play a part in the plot. We wanted to keep the quality in there but the storyline had to be shaped by the fans' desire to see all the old characters in there. We wanted to make them happy.
"I think Rob had thought Veronica might become some kind of Clarice Starling in the FBI, but the film had to revolve around where the TV series left off."
'Know your pitch'
Reaction from fans and critics has so far been positive, with The Hollywood Reporter calling it "a solid return to filmmaking for the Nancy Drew of the new Millennium", while The Guardian said "six years of thunderous internet fandom was worth the wait".
The success of the Kickstarter campaign for Veronica Mars has brought Thomas more fame than during his years of directing it and another cult TV series, Party Down.
Actor Zach Braff also crowdfunded Wish I Was Here, his first movie in 10 years, while the Oscar-nominated Egyptian film, The Square, was finished using the funding tool following its world premiere at the Sundance Film Festival in 2013.
But other projects, such as a rom-com pitched by Melissa Joan Hart - best known as Sabrina the Teenage Witch - have failed to reach their targets.
"You need to know your pitch, you need to know your audience, and you need to have a story that wants to be told," Thomas said. "The ending of Veronica Mars on TV was deliberately ambiguous. Fans wanted to find out what became of her, they wanted closure I suppose."
If the Veronica Mars movie - which will be released digitally on demand the same day as its theatrical release - makes a large profit, it seems likely the adventures of the young detective can continue as an adult.
"I don't know if we've changed the film world by the Kickstarter project - to really make history, we have to get a good response to the movie and it has to do well. If it doesn't perform then there will be no more of her," Thomas said.
"But I hope it does well and that the campaign has spurred new life into making films in the $5m (£3m) range, because it's been sadly lacking for some time.
"However, if it works out, we'll keep doing more Veronica Mars, whether on TV or on film, for as long as the fans want it. I see us as a franchise again, churning something out every few years. I think we may be the low-budget James Bond."
Veronica Mars is released in the UK and US on 14 March in selected cinemas and on demand.