Olivier Awards: Dame Judi Dench and Jude Law up for acting prizes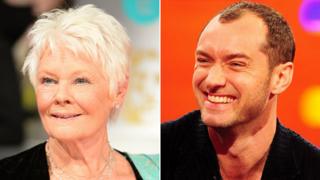 Dame Judi Dench and Jude Law are among the acting nominees in the running for this year's Olivier Awards.
Dame Judi is nominated for her role in Peter and Alice, while Law is up for Henry V. Both plays formed part of the inaugural Michael Grandage season.
Charlie and the Chocolate Factory and the Maria Friedman-directed revival of Stephen Sondheim's Merrily We Roll Along each received seven nominations.
The awards will take place at the Royal Opera House in London on 13 April.
Once, The Book of Mormon and The Scottsboro Boys - which compete alongside Charlie and the Chocolate Factory for the best new musical prize - received six nominations each.
The Almeida theatre in north London notched up 10 nominations for its productions, which include two in the best new play category for Chimerica and 1984, and a best revival nomination for Ghosts.
Also up for best new play are Peter and Alice at the Noel Coward Theatre and The Night Alive at the Donmar Warehouse.
"The nominations show what a fantastic year London theatre has had," said Julian Bird, the chief executive of the Society of London Theatre.
He noted the best actor category included "three powerhouse Shakespeare performances".
Alongside Law in the best actor race are Henry Goodman for The Resistible Rise of Arturo Ui, Tom Hiddleston for the Donmar production of Coriolanus and Rory Kinnear for Othello.
Goodman, who has been nominated for eight Oliviers over his career, and won twice, told the BBC News website: "I thought I'd had my time, so it's great to be taken back into the fold."
He said Brecht's parable play about the rise of Hitler, which started at Chichester Festival Theatre, had been "a high risk venture that dealt with very delicate issues".
Goodman played small-time Chicago crime boss Ui, who sets out to grasp absolute power during the Great Depression of the 1930s.
Dame Judi is up for best actress alongside Hayley Atwell for The Pride, Anna Chancellor for Private Lives and Lesley Manville for Ghosts, currently playing at the Trafalgar Studios.
In Private Lives, another transfer from Chichester, Chancellor and Toby Stephens played rich and reckless divorcees, Amanda and Elyot, whose love is unexpectedly rekindled when they take adjoining suites while honeymooning with their new partners.
Chancellor said: "Amanda is all fun and exuberance, but underneath she's driven by sadness and isolation. For an actress like me that plays to my strengths. I don't know if I'm going to have a part that suits me that well again."
Other familiar names up for acting honours include Sherlock co-creator Mark Gatiss and comedian Ardal O'Hanlon, shortlisted for their supporting roles in Coriolanus and The Weir respectively.
The best new comedy category returns for the first time since 2010 with The Duck House, The Full Monty, Jeeves and Wooster in Perfect Nonsense and The Same Deep Water As Me all in contention.
Women dominate the best director category with Friedman, The Scottsboro Boys' Susan Stroman and Chimerica's Lyndsey Turner up against Sir Richard Eyre, director of Ghosts.
Friedman, who made her directorial debut with Merrily We Roll Along, told the BBC: "It feels as good as when I won my first Olivier, because it's so unexpected. It feels as good as a win to be recognised in my new career."
Rosalie Craig, nominated for best actress in a musical for Tori Amos's The Light Princess, said an Olivier nod had been "a lifelong ambition".
Her role as the 16-year-old floating princess Althea required the actress to sing and act while upside down or being twirled around in the air.
"It was such a huge challenge personally, and for the whole team. I'm very proud to represent all of us," she said.
Matilda The Musical, Les Miserables, The Phantom of the Opera and Wicked are all shortlisted for the BBC Radio 2 Audience Award, the only category whose winner will be decided by the public.
The nominations were announced in central London on Monday by Nigel Harman and Leigh Zimmerman. The full list of nominations is available on the Olivier Awards website.