Cheryl Cole confirms X Factor return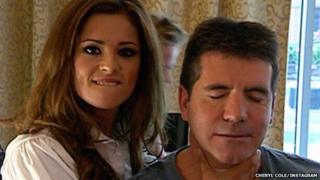 Cheryl Cole has confirmed she is to rejoin the X Factor, along with Simon Cowell, for the show's 11th series.
Cole announced her return on Instagram, saying: "Guess what? I'm back."
An accompanying photo showed the 30-year-old pop star with her hands around Cowell's throat, and the caption: "I may actually wring his neck."
ITV will be hoping the return will boost ratings, after last year's series attracted some of the lowest audiences in the show's history.
A peak audience of 11.5 million people watched Sam Bailey take the crown in December, down from 17.7 million during Cole's last appearance in 2010.
"It's official. Cheryl is back," Cowell confirmed on Twitter, late on Monday night.
"Be careful what you wish for!"
ITV also confirmed Cole's return on Tuesday. issuing a statement from the singer saying: "I'm inspired and ready to find new talent and potential pop stars. It's going to be a fun series."
Cowell, who confirmed his return to the UK show last month, added: "I am so happy that Cheryl has agreed to join The X Factor again.
"The last time we worked together in the UK was incredible and produced some really successful artists. Obviously the plan is to do the same again… so it's back to work!"
The talent show's 11th series will air in the autumn, with open auditions taking place from April.
Cole is expected to speak to the press about her return in London on Tuesday.
US payout
The singer had a successful three-year stint on the X Factor from 2008 to 2010, steering both Alexandra Burke and Joe McElderry to victory.
She left with Cowell to film US X Factor in 2011 but, although she had signed up for two series, was dropped after filming just one episode.
According to US media reports, the singer was let go over fears American viewers would not understand her Newcastle accent.
For a long time, the incident soured relations between Cole and the show's creator, Cowell.
Their on-screen reunion comes just months after Cole won an undisclosed payout from the producers of US X Factor, Blue Orbit, who she had sued for $2.3m (£1.4m) in lost earnings.
Richard Holloway, managing director of Thames TV, which makes the X Factor for ITV, said: "[Cheryl] has the unique experience of having started out on a show like this and she is also one of the only people who knows how to get the better of Simon."
'Brilliant judge'
Cowell had hinted at the plans last Christmas, telling the Metro: "Cheryl and I patched up our differences a long time ago.
"I saw her recently, we speak a lot on the phone and text each other, and I think both of us would like the idea of working together again."
After her return was announced on Monday, the music mogul tweeted: "Most importantly she is a brilliant judge of talent."
The singer, who first found fame as part of pop group Girls Aloud, recently returned to the studio to start work on her fourth album, which is due for release later this year.
According to the Daily Mirror, she has only signed up for a single series of the X Factor, after agreeing a fee of £1.5m.
Neither the star's spokesman, nor ITV, was available to confirm the figure to the BBC at the time of publication.
ITV said the rest of The X Factor judging panel will be announced in the next few months.