Toby Stephens: 'British scripts often make my heart sink'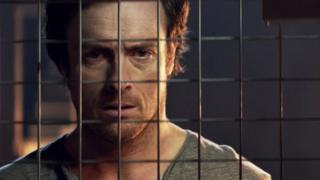 He's been a Bond villain and his latest film has been compared to Blade Runner. So why does Toby Stephens think British screenwriters need to up their game?
Toby Stephens has some strong words to say about the British film industry.
"Generally, when I get sent British scripts - and this isn't a generalisation - nine times out of 10 my heart sinks after about three pages," Stephens says when we meet at Bafta in London to discuss his latest project.
The stage and screen actor, son of Dame Maggie Smith, stars in a new British sci-fi thriller The Machine, out this week, playing a scientist working on a top secret artificial intelligence project.
Directed by Caradog James, the film won the Raindance award at the British Independent Film Awards in December.
The story is set in a future Britain gripped by recession and locked in a Cold War with China.
Ministry of Defence scientist Vincent McCarthy (Stephens) is tasked with creating a super-intelligent android, but has his own personal agenda - to use the new technology to help his sick daughter.
The cast also includes Denis Lawson as McCarthy's militaristic boss and Caity Lotz as Ava, an artificial intelligence expert.
"This script came through and it blew me away. It's not about football violence, it's not about gangsters, it's not about some depressing estate," says Stephens.
"It's a no-budget sci-fi movie dealing with really interesting ideas about where we're headed. We will one day create a machine with something akin to human consciousness.
"When we do how are we going to treat them, and how are they going to treat us - and what does it mean for us as a species?
"I loved the idea - it had echoes of not just Blade Runner but also Frankenstein and Metropolis."
Reviews have picked up on The Machine's Blade Runner homages such as its Q&A tests to weed out android imposters and its Vangelis-like score.
"I remember going to the cinema to watch Blade Runner when I was 14 or 15," recalls Stephens.
"It was a huge flop when it came out. The cinema was almost empty. I was blown away by it. I liked that kind of sci-fi: 2001, Alien, Blade Runner, Silent Running - you could kind of believe them. I don't like total escapism."
An experienced theatre actor, Stephens' first feature film role was Othello in Sally Potter's Orlando, opposite Tilda Swinton in 1992.
He appeared in Trevor Nunn's film version of Twelfth Night (1996), and played the lead in 1997 romantic fantasy Photographing Fairies.
But Stephens' most widely known screen role is that of that of Bond baddie Gustav Graves in Die another Day, appearing alongside Pierce Brosnan, Halle Berry and Rosamund Pike.
He has also played the part of James Bond in several radio adaptations of the Ian Fleming novels for BBC Radio 4.
The Machine marks the 44-year-old actor's first foray into movie science fiction.
"It's a weird hybrid," he says. "It's like an arthouse but it's also a sci-fi film. It was also seemingly ridiculously ambitious. It had no budget. It was a bit of a punt really."
Since making The Machine, Stephens has been on location in South Africa filming Black Sails, a TV series prequel to Robert Louis Stevenson's Treasure Island, produced by Michael Bay.
But before the interview is over, he returns to the subject of how British films need to be more ambitious.
"We need to stop trying to imitate America. We need to stop trying to do the same movies over and over: the gangsters and football violence.
"We do these intelligentsia movies about married couples in Hampstead or whatever. I think there's a place for all those things but we can't keep on repeating ourselves. The Machine is a really good example of people thinking outside of the box.
"We need to start writing cleverer and better scripts. I read a lot of scripts and I find there's a paucity on quality.
"Whenever I've been sent American scripts they tend to be much better. I don't know why that is because we've got a lot of good writers here.
"When we make good movies we make really good movies.
"We've got fantastic writers, actors and crew here. We need to start being a bit more brave about the kind of films that we make."
The Machine is released in cinemas and VoD on 21 March