'Radical' Turner canvases to be shown together for first time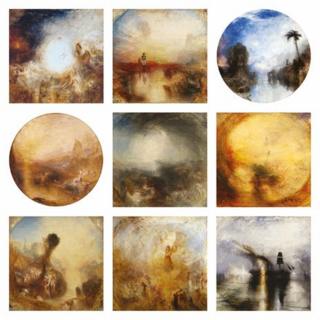 A set of nine canvases by JMW Turner are to be exhibited together for the first time later this year.
The paintings, created towards the end of his life in the mid-19th Century, were greeted with savage reviews.
Critic John Ruskin said the works were "indicative of mental disease" in the artist, then in his 70s.
The paintings will form part of an exhibition at London's Tate Britain focusing on the latter part of Turner's output from 10 September.
The show is due to run until 25 January 2015.
It is billed as the first major survey of Turner's major achievements in the final years of his life up to his death at the age of 76 in 1851.
He had an interest in creating sets and sequences of work, while he began painting on square canvases.
They demonstrate how he developed his vortex technique, which loosely depicted the forces of nature and was seen as a radical departure from established methods.
'Grave injustice'
Professor Sam Smiles, co-curator of the Late Turner: Painting Set Free exhibition, said the paintings show how Turner "continued to innovate, even in his later years".
"The world around Turner was changing and he was changing with it," he added.
Turner, best known for his skillful representations of broad seascapes and natural vistas, caused a stir with the new work and prompted speculation that the artist's talents were in decline.
Professor Smiles added: "The myth is that Turner's mind and hand increasingly failed him, especially after 1845, and that his work declined.
"The myth of the artist in decline does him a grave injustice," he added.
Along with the exhibition, a new film by Mike Leigh about Turner is due for release this year.
Timothy Spall will take on the role of the artist in the biopic.