US country stars perform at London festival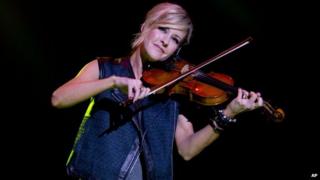 Some of the US's top country music acts including Dixie Chicks and Zac Brown Band have played for 15,000 fans at London's Country to Country festival.
Other artists at day one of the two-day event, which also takes place in Dublin, included Dierks Bentley and Martina McBride.
Zac Brown Band's headline set included covers of Metallica's Enter Sandman and Van Morrison's Into the Mystic.
The festival was hosted by BBC Radio 2's Bob Harris.
This is the second year that Country to Country has taken place. Brad Paisley and Rascal Flatts are among the acts performing in London on Sunday.
Artists paid tribute to the mainstream single chart with Dixie Chicks covering Miley Cyrus's global hit Wrecking Ball, while Dierks Bentley gave his take on Avicii's Hey Brother.
Zac Brown Band performed current tracks from their EP recorded with Foo Fighters frontman Dave Grohl, aptly named the Grohl Sessions.
"Looks like country music has found a new home," said Bentley as he addressed the crowd at the O2 arena in Greenwich. "Thank you for making this feel like home," he told the sell-out crowd.
While ticket sales for the Country to Country festival are buoyant, album sales of country music in the UK made up only 1.7% of all albums sold in 2013, according to the figures from the BPI, which represents the UK's recorded music industry.
Rock was the best selling genre taking 33.8% of all albums sold.
'He blew the roof off'
Triple Grammy winner Zac Brown says he sees their career on the UK music scene as being "at the beginning" and is open about coming back to "gain new fans".
Music fan Bobby Slater from Shetland in Scotland came to Country to Country to see Dixie Chicks and Zac Brown Band, but was won over by Dierks Bentley's set.
"He blew the roof off this place," the 25-year-old said. "He'll shift a lot of CDs."
His sister, 20-year-old Amanda Slater, hoped "more people get into country music" before ticking off a "lifetime ambition to see the Dixie Chicks play live".
Calum Fraser, 24, also from the Shetland Islands, was on his first trip to London, admitting it was a "fantastic opportunity to see such great bands".
Country to Country will return in 2015, taking place once more in London and Dublin, over the weekend of 7 and 8 March.
Bob Harris will be broadcasting highlights from the event on his country music show on 20 and 27 March.