US box office: Need for Speed beaten by Mr Peabody & Sherman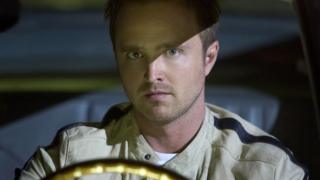 High-octane action film Need For Speed has been beaten at the US box office by animated adventure Mr Peabody and Sherman.
The movie, starring Breaking Bad actor Aaron Paul, was largely tipped for pole position. But it entered at number three with takings of $17.8m (£10.6m).
Its 3D cartoon rival rose to top spot with $21.2m (£12.7m) after making its debut in second place last week.
But at the global box office, Need For Speed came first.
Dreamworks outing Mr Peabody and Sherman finished in third spot in countries outside of the US and Canada.
Box office analyst Paul Dergerabedian said of its North American success: "The family marketplace is giving every other genre a run for its money."
Need For Speed is based on the popular video game featuring the street-racing character Tobey Marshall.
In North America, 300: Rise of an Empire, took second place after a hefty $45.1m (£27m) number one opening last week.
But the film failed to match the debut of its predecessor 300, which starred Gerard Butler.
Other new entries included Tyler Perry's latest offering, The Single Moms Club, at number five, seen as a relatively poor performance for the US hit film-maker and actor.
"This is one of his lowest debuts ever, but he's cranked out hits every year for almost decade," said Dergerabedian. "He's allowed a couple of mis-steps every once in a while.''
Wes Anderson's latest film The Grand Budapest Hotel came in at number eight on the back of screenings in just 66 cinemas.
And at number 10, the film reboot of cult TV series Veronica Mars graced the chart.
The serial was revived on the big screen thanks to a fan-driven crowdsourcing campaign to fund its production.