The Stooges drummer Scott Asheton dies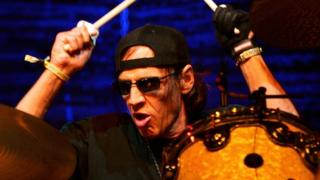 Iggy Pop has led tributes to his "dear friend" and bandmate, The Stooges drummer Scott Asheton, who died on Saturday aged 64.
Pop confirmed the news on his Facebook page on Sunday, saying: "He was like my brother. I have never heard anyone play the drums with more meaning."
Asheton played with pioneering proto-punk band The Stooges from their early days in Detroit in the late 1960s.
His guitarist brother Ron was in the band, fronted by Pop, but died in 2009.
"He and Ron have left a huge legacy to the world," said Pop, who called Asheton "a great artist".
"The Ashetons have always been and continue to be a second family to me," he added.
"My thoughts are with his sister Kathy, his wife Liz and his daughter Leanna, who was the light of his life."
He did not confirm what Asheton had died of, although the drummer had to leave the 2011 Stooges tour because of illness, according to Detroit News.
Also known by the nickname 'Rock Action', he played on their last album, 2012's Ready to Die.
The band's early albums were a key influence on punk - The Stooges in 1969, 1970's Fun House and 1973's Raw Power - produced by David Bowie and featuring tracks such as Search and Destroy and Gimme Danger.
A tour in support of that album was overshadowed by Pop's heroin addiction and problems with their record label, and the group disbanded in February 1974.
Pop - who recently joined BBC 6 Music as a presenter - went on to enjoy solo success with hits such as Lust for Life. The band reformed in 2003 for a world tour and two more albums.
Artists including Sonic Youth's Kim Gordon have paid tribute on Twitter: "So sad to hear about Scott Asheton passing!!! Rock Action forever!!".
The Charlatans frontman Tim Burgess also paid tribute, along with Noel Fielding, who wrote: "I can't believe Scott Asheton passed away. That's ruined my day, week , year :( X."